With 2022 fading fast I can't believe this is only my second blog of the year. Apart from ongoing work commitments I do have a number of excuses for my lack of updates. These included, finishing off the Vultures to Vampires trilogy, attending Amiga37 in Germany, writing my regular bi-monthly column for Amiga Future magazine and moving home. I can't really claim that attending Amiga 37 in Germany was anything other than a fantastic experience. It was so good to meet up with everyone in person once again. I wrote a short personal update about my Amiga37 experience for amiga-news.de which I described as the Amiga show of the century.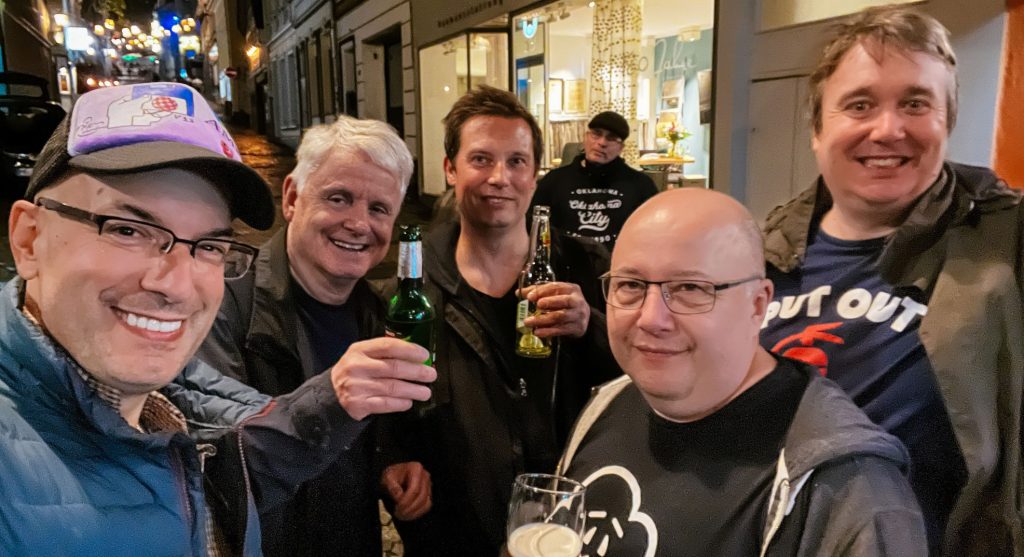 It was my first Amiga event since I attended Amiga Ireland way back in January 2020. I don't need to mention what happened after that. However with the world opening up as Covid-19 wanes it's good to see live retro computer shows being run once again. Unfortunately I could not attend Amiwest this year due to work conflicts and reduced flight schedules from New Zealand. Hopefully I will be back next year.

Apart from Amiga 37, my co-author David Pleasance recently attended the World of Commodore (WOC) show in Toronto as a guest of the Toronto Pet Users Group. Unfortunately, he found some additional material for our books. 😉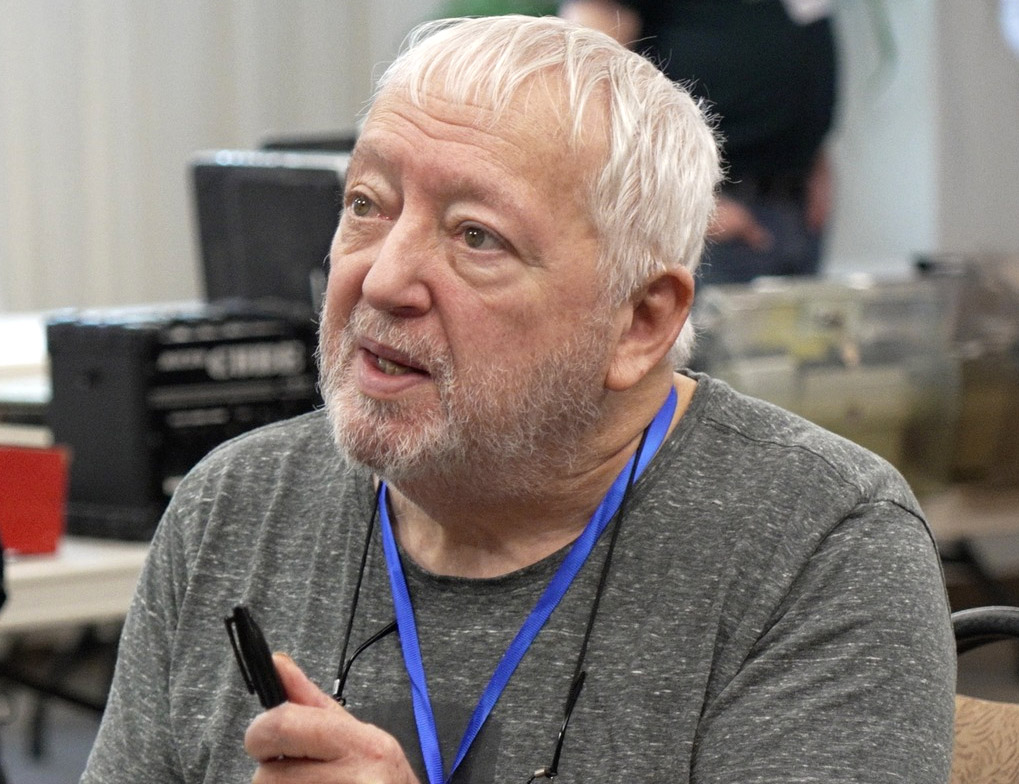 It's no surprise really. While I was originally researching and writing Volume 2, it soon became obvious that the size of the book was going to be much larger than Volume 1. Time moves on and every week exciting new Amiga hardware and software developments are released. It's very hard to keep up and unfortunately we can't include all of them in our books. When I realised we might have to omit some of them I added the following introduction to the The Makers and Shakers chapter.
"The Amiga community is blessed with a fantastic maker culture, and so many exciting ideas and innovative projects have come from this active resource. We continue to be impressed by the talented Amiga developers and enthusiasts who strive to find new and exciting ways to keep the Classic Amiga dream alive. There are too many developments to cover all of them in this book, and no doubt we will have missed some important contributions, but we list some notable ones in this chapter."
After David took the decision to split Volume 2 into two books it gave me additional space to showcase more of the work. No doubt I will still have missed some key developments. Since we certainly don't want a fourth volume, I will have to stop David visiting Commodore and Amiga shows until the trilogy has been released. 😉 At the time of writing, Volume 2 has been proofread by Dave McMurtrie, the founder of the Commodore International Historical Society group. He also wrote the foreward for this volume. Following the late additional text, Volume 3 is now complete and should be on the way to Dave for proofreading shortly.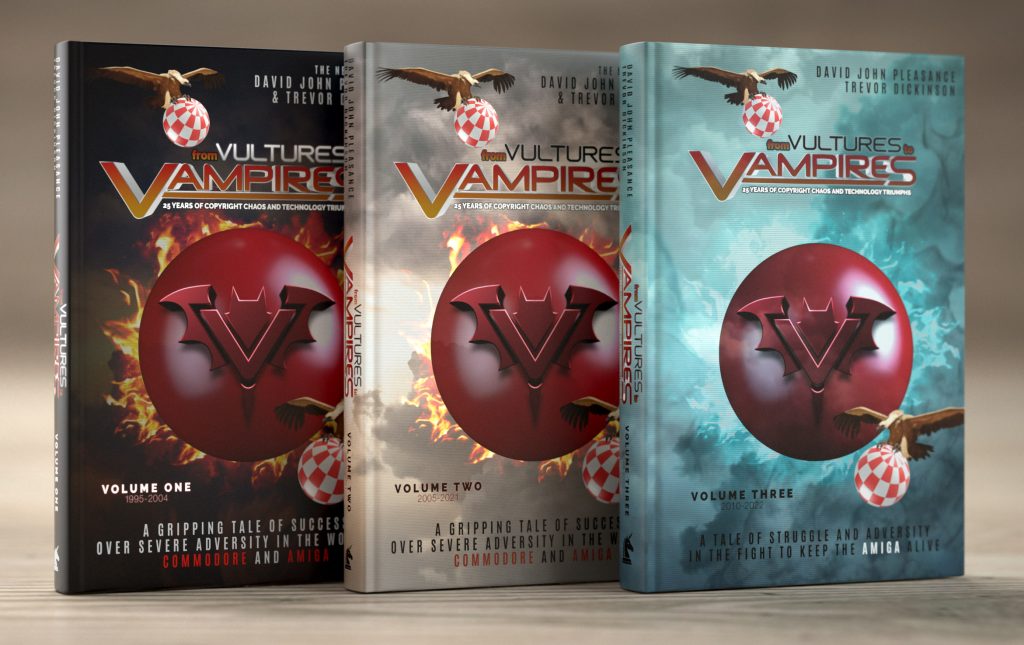 If you want to know the identity of the late and very last addition to Volume 3 you will just have to buy the book. 😉
Winter Cheer
Talking about Amiga Ireland, I'm pleased to say that the live in-person show will go ahead again in January 2023 following a 2 year hiatus due to Covid-19. Once again, I will be attending and sponsoring the event on behalf of A-EON Technology. If you have never been to Ireland and want a good dose of Amiga cheer to brighten up the dark winter days, then this is the show for you.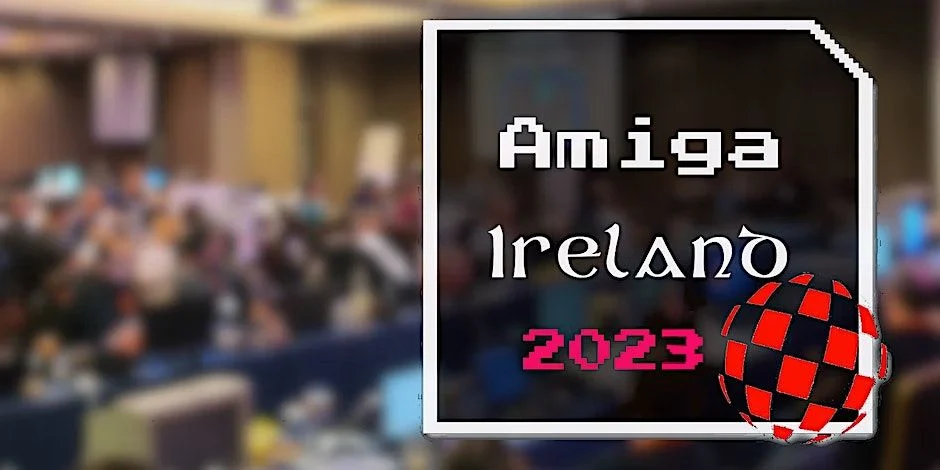 If you want to buy a ticket or simply donate to the not-for-profit event please visit Amiga Ireland 2023 website. I hope to meet some of you at the show in January.
AGA in 2023?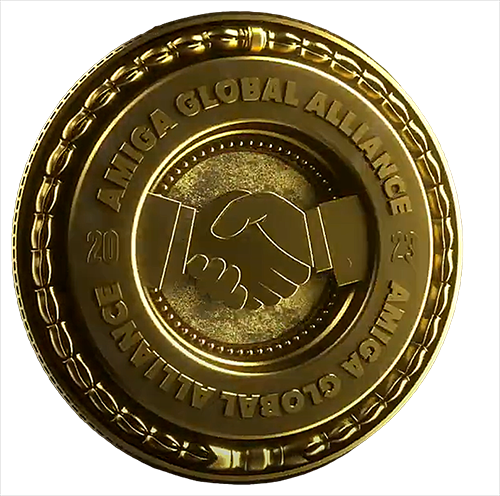 No I don't mean the Amiga's Advanced Graphic Architecture but the Amiga Global Alliance proposed by David Pleasance. David used Amiga 37 to officially announce the upcoming launch of the Amiga Global Alliance, his ambitious plan to provide a centralised resource and information database bringing together the whole Amiga community of enthusiasts, developers, retailers and magazines. It will be a subscription based service with a bundle of goodies for people who sign up. For more information check out his video or visit his provisional website to sign up for his newsletter.
Imitation – the sincerest form of flattery
Back in September 2021 I placed a pre-order for a MEGA65 system with Trenz Electronic in Germany. The not-for-profit development was the brainchild of the Museum of Electronic Games and Art (MEGA), based in Alsbach Hähnlein, Germany who had ambitious plans to create an updated version of the unreleased Commodore C65. They wanted to make a modern 8-bit computer that preserved the spirit of 1980s machines but, more importantly, was the ultimate reflection of what Commodore started 25 years earlier but failed to finish. Taking advantage of FPGA technology it would support the features of the original C65, but it would also be more compatible with C64 software. The first prototype, based on the Nexys4 DDR Artix-7, an off-the-shelf FPGA board, was produced in 2015. It was provisionally named the 65GS and presented at the Revision 2015 demo party held in Saarbrücken, south-west Germany, in April 2015. It was renamed MEGA65 and, sporting a replica C65 case, was demonstrated at Amiga 30 in Neuss, Germany in the same year.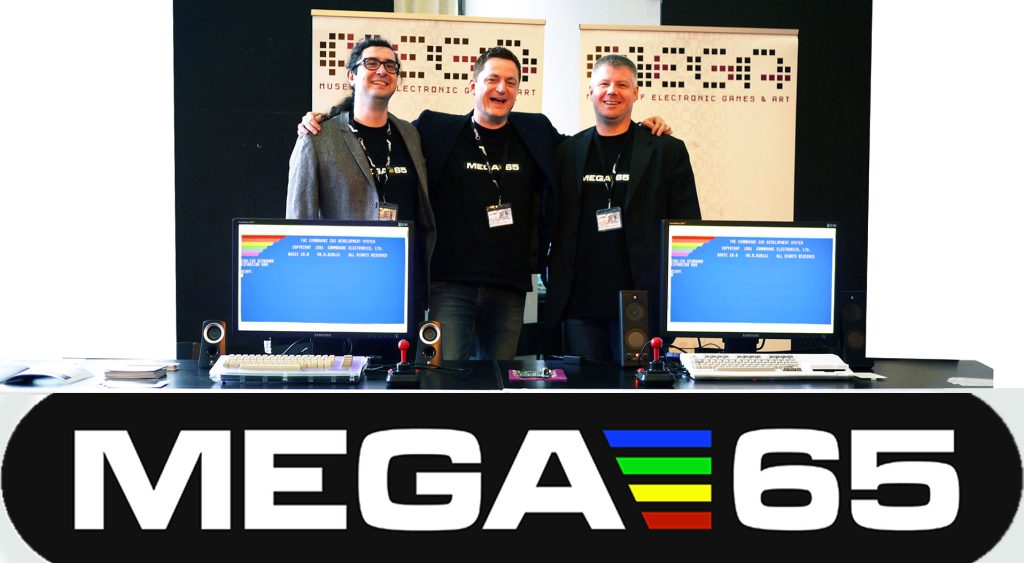 The next prototype was displayed in April at Revision 2017 and featured a custom PCB designed by Trenz Electronics in Germany. In June 2020, to help fast-track the route to a commercial product, MEGA produced 100 dev self-build kits to allow developers to create software for the machine and help shape the final commercial product. The kits included a mechanical keyboard and acrylic/plexiglass case and were supplied with the revision 3 motherboard which featured an Artix-7 A7 200T FPGA module. The first dev kits began shipping in November 2020.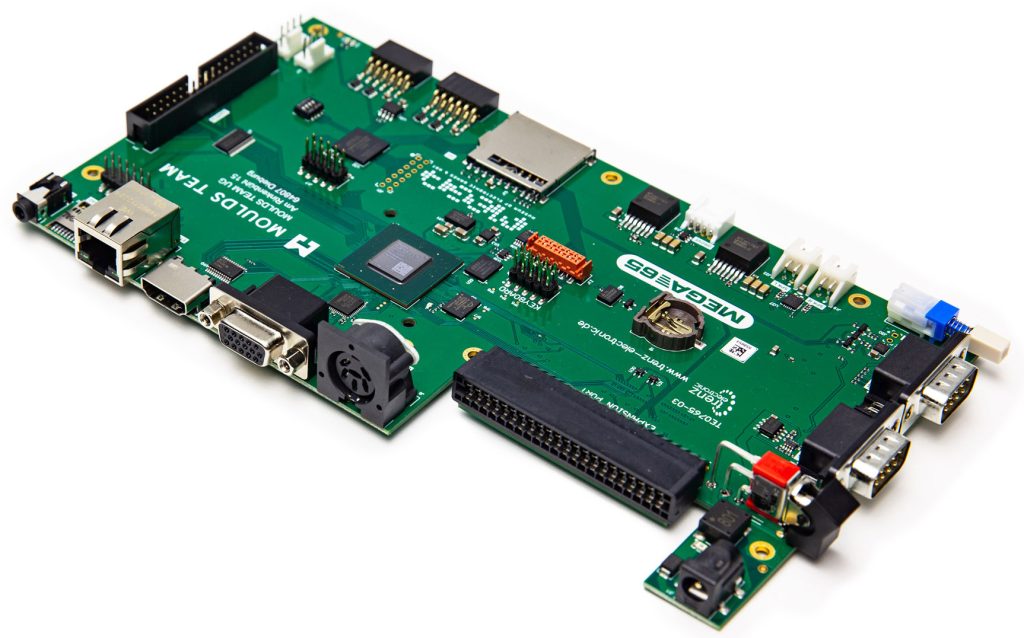 The first commercial systems, featuring an injection moulded C65 replica case and a mechanical keyboard, were made available for pre-order from Trenz Electronics in late September 2021 for €793 plus shipping. The supply chain disruption and shortages caused by the Covid-19 pandemic delayed production. Even cardboard for the packaging was in short supply. It was May 2022 before the first batch of 400 units began to ship. Some minor teething problems were reported by recipients of the first batch. A few of the injection-moulded cases were slightly warped, making it difficult to insert a floppy disk into the drive. Users experienced flickering and lack of sound on some HDMI monitors. Also some of the floppy disk eject buttons had been installed upside down.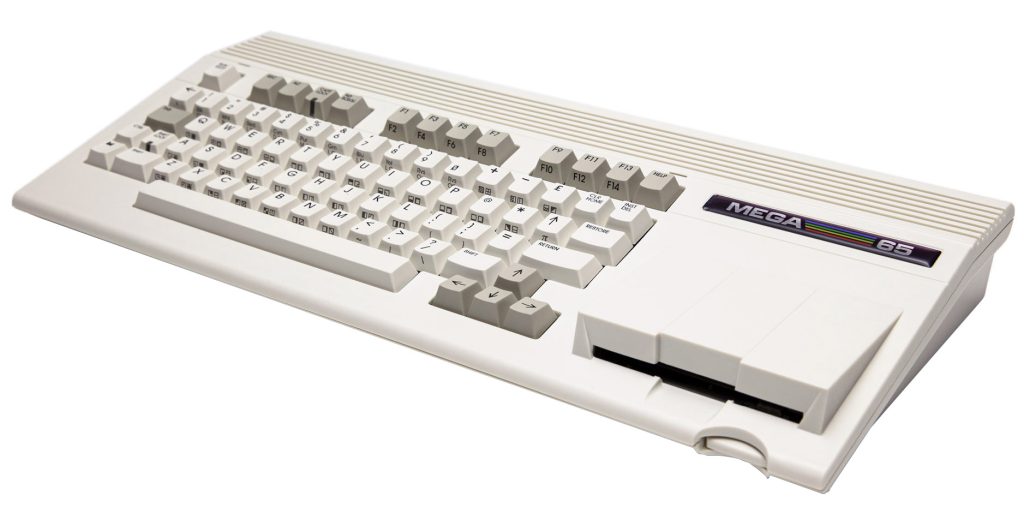 My MEGA65 arrived in June just before I moved house. I'm pleased to say it exhibited none of those problems and worked out of the box first time. The MEGA65 is supplied in professionally printed packaging very similar to the original Commodore 64 box design, complete with a spiral bound user guide that has more than a passing resemblance to the original Commodore C64 packaging. Mind you, so does the THEC64 MicroComputer packaging and manual released by RetroGames.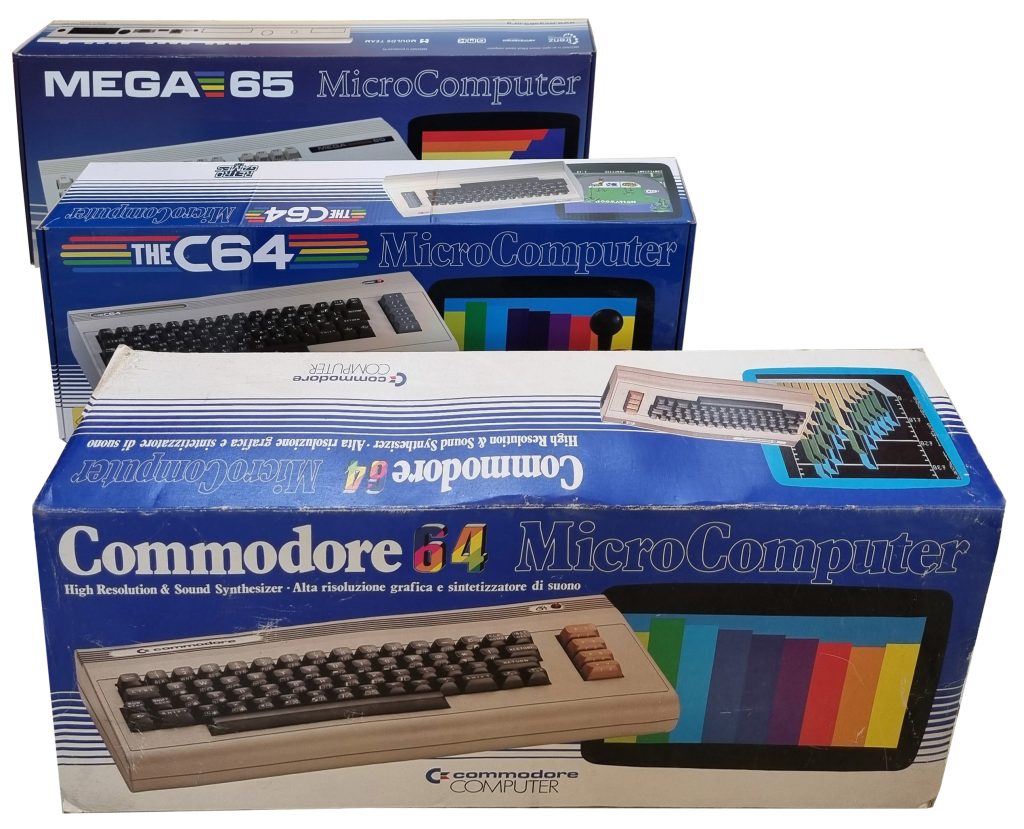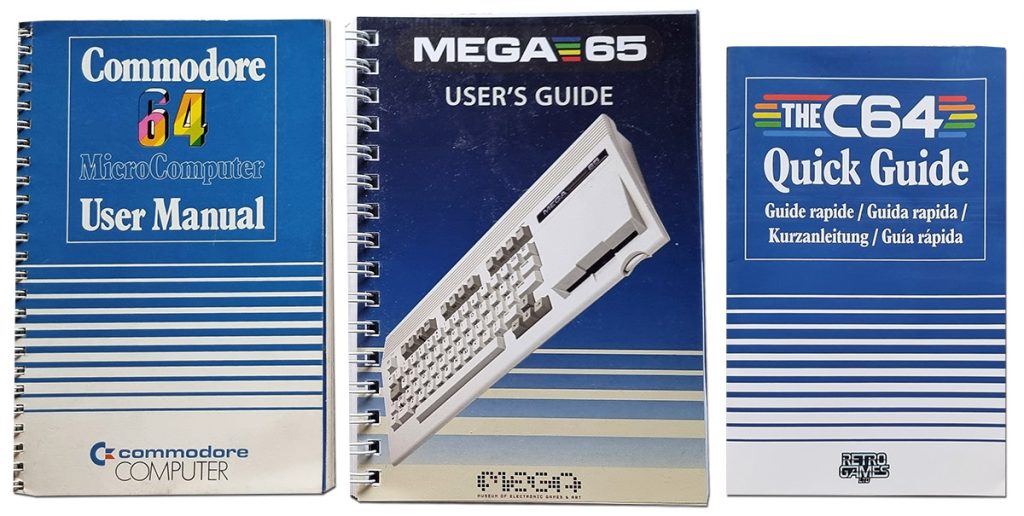 MEGA commissioned a second batch of 400 units which has already sold out and Trenz Electronics is currently accepting orders for another manufacturing run. The prototype C65 was the pinnacle of Commodore's 8-bit gaming. The MEGA65 takes that to a whole new level while achieving full compatibility with the legendary C64.
Chipageddon – A1222 Plus update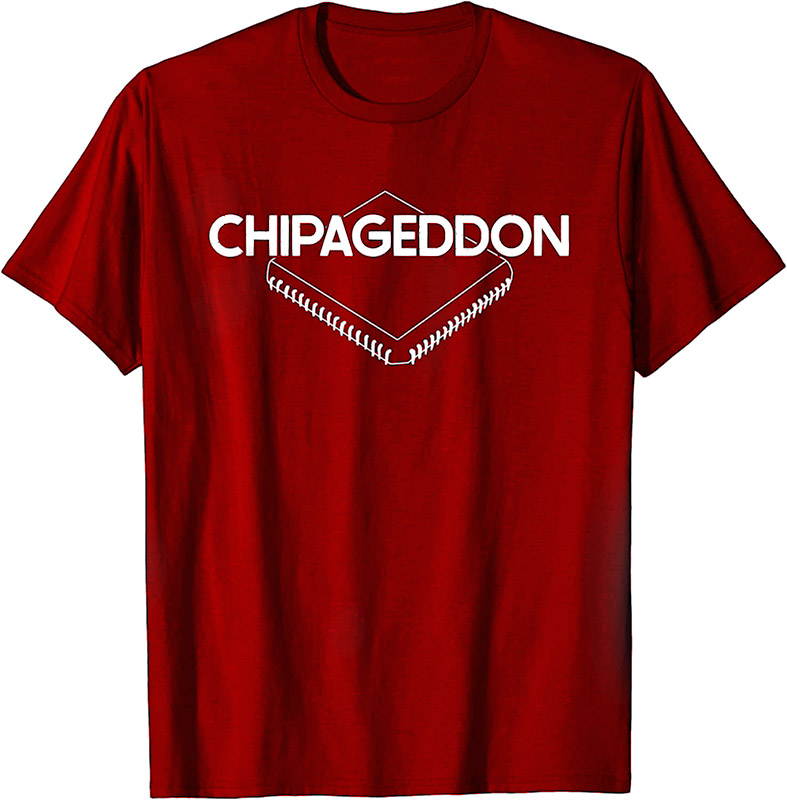 The ongoing worldwide lack of integrated circuits and other electronic supply chain issues continues to delay the production of the A1222 Plus manufacturing run. One small micro-controller which costs $6.83 each in batches of 100+ is only available for delivery at the end of 2023. Although it can be purchased now from another trade supplier for the extortionate price of ~$420 each. The original A1222 board designer confirmed that he is experiencing problems with the supply of similar chip components for his current projects. The company he works for have taken to purchasing circuit boards containing the parts they need and stripping out the chips for their own prototypes. ACube and A-EON are continuing to look for alternative suppliers. Fingers crossed for luck! Watch this space.
Getting enhanced – Christmas special
In better news, A-EON has released version 2 of its Enhancer Core package as a free download from amisphere.com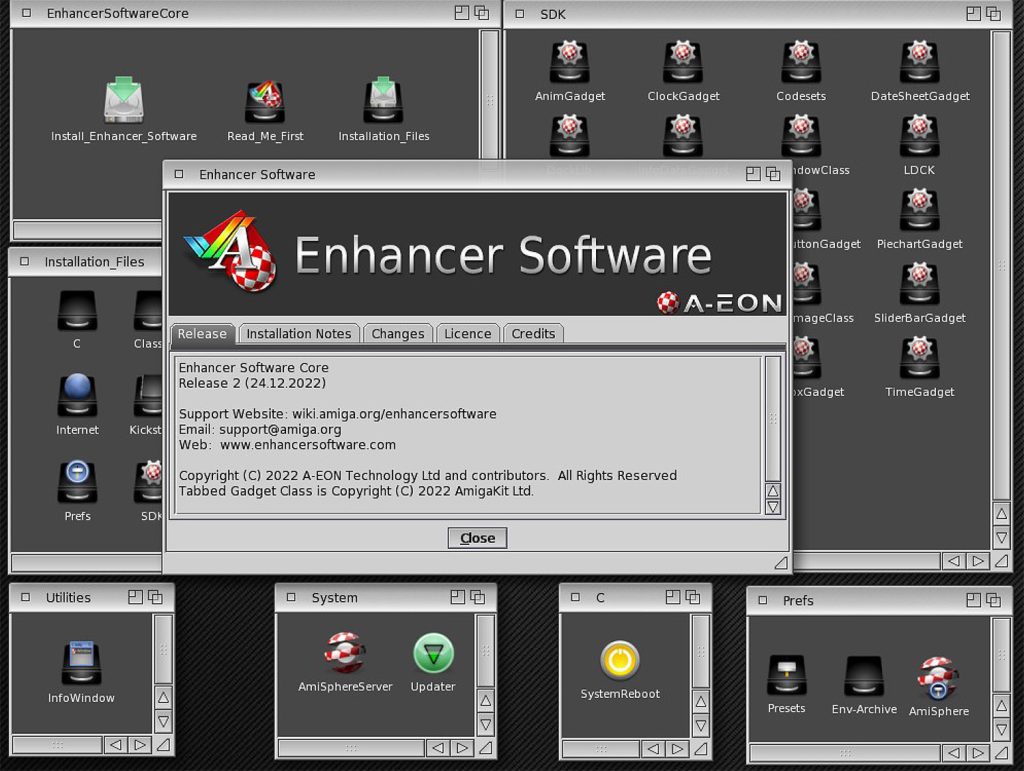 It's a free-of-charge standalone version of the Enhancer Software package which contains classes, libraries and system files together with a Software Development Kit enabling developers to build their own projects using features of the Enhancer Software core components. Developers can release their software with confidence that users can access these without having to purchase the commercial version of the Enhancer Software.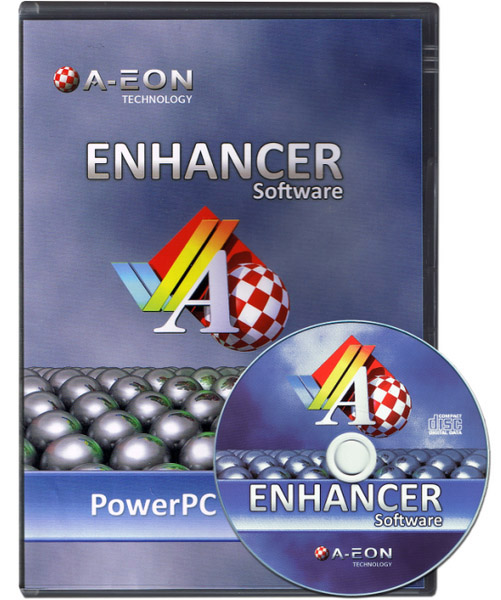 As a special bonus for the holiday season, the full commercial version of Enhancer Software v2.2 is being offered at a 30% discount until the 31st December 2022. Anyone who has already purchased v2.2 during December 2022 will receive a 30% credit to their Amistore account.
Digital downloads are available via Amistore. Boxed versions are available from AmigaKit.
….and finally
Croatia may not have won the Football World Cup 2022 but its team and fans certainly brightened up the competition, or maybe I just see boing balls? 😉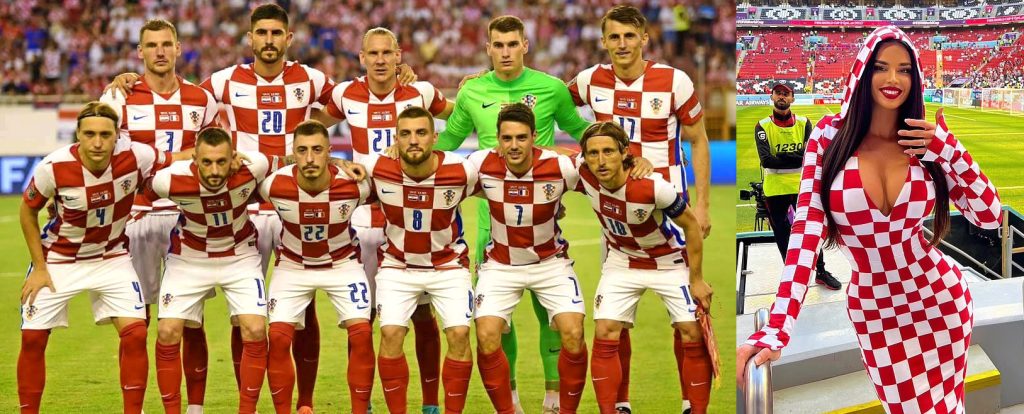 Talking football, I knew that Commodore UK sponsored Chelsea F.C in England from 1987 until 1994, initially with a Commodore logo on the shirt but later the Amiga and C= logos.

However, I had not realised that Commodore Germany had sponsored Bayern Munich FC in the 1980s. At Amiga 37, I had a nice chat with Petro Tyschtschenko who was a special VIP guest on the Amiga Future display stand. He proudly showed me a large selection of photos from the time Commodore Germany sponsored Bayern Munich football club. He said Commodore sponsored the team for ~16 million DM (~US$8 million) during the period 1984-89. He presented me with a signed copy of the Bayern Munich team photo.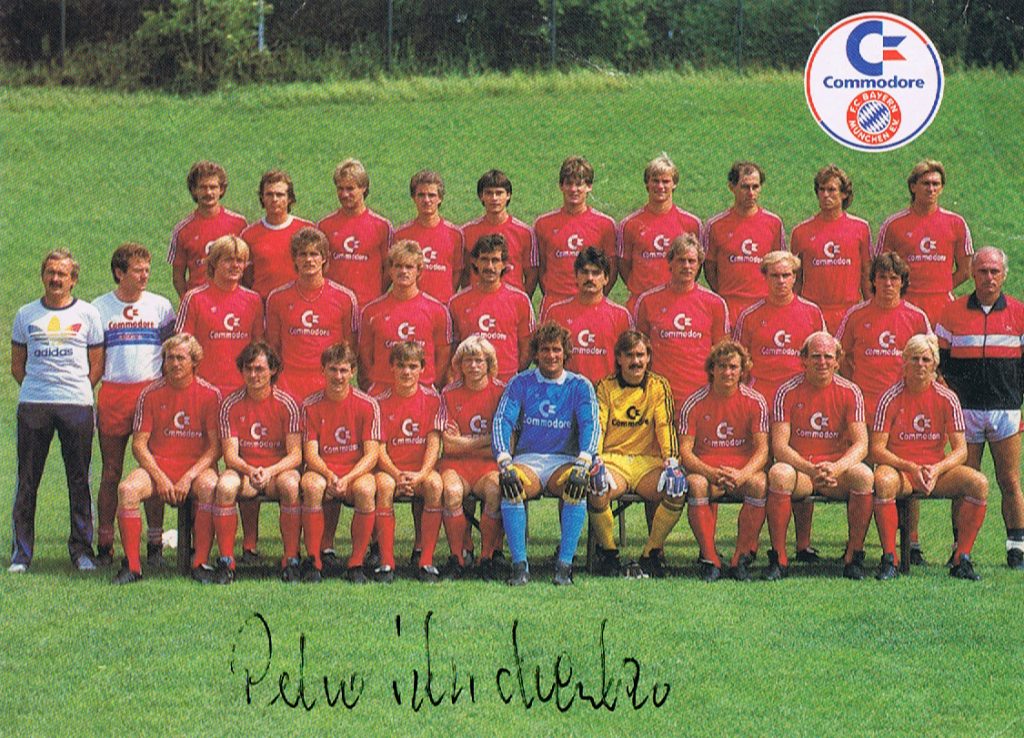 On that note,
Seasons Greetings and Merry Christmas from New Zealand to all Amiga enthusiasts whatever your preferred Amiga flavour.