While the Northern Hemisphere is suffering under a sweltering heatwave, so far the New Zealand winter has been wet, windy and wild. It's hard to believe this is my first blog of 2022. Where have I been, you may ask? If you are a reader of Amiga Future magazine you will know I've been heads down working on the second volume of 'From Vultures to Vampires', the book I'm co-authoring with David Pleasance. It's been a fascinating journey of discovery and, without giving too much away, it has given me a new found respect for the breadth and diversity of the whole Amiga community. My message to all Amiga enthusiasts is just enjoy your Amiga hobby whatever form it may take. With the book almost finished, apart from the final layout and proofreading, I can finally get my life back. The only problem is, volume 2 is almost twice the size of the first volume and with massively rising production and shipping costs, David may need to spilt it into two volumes. Watch this space.
Go Amiwest young man!
With apologies to Horace Greeley for misquoting him but I'm pleased to confirm that A-EON Technology is once again the gold sponsor for Amiwest. With the world opening up again after a 2 year enforced hiatus it should mean that international visitors will once again be able to attend the show. Amazingly Amiwest 2022 is the 25th consecutive show and this year the special banquet speaker is none other than Tim Jenison, the co-founder of Newtek the creators of the Amiga Video Toaster.
Tim is a true pioneer of digital video and computer graphics. Who can forget his DigiView video digitiser for the Amiga. His partnership with the late Paul Montgomery would elevate them both to superstar status in the embryonic world of desktop video and digital broadcasting and together with Brad Carvey, the brother of comedian Dana Carvey, they would go on to create the Emmy award winning Video Toaster and Lightwave software. An Amiga equipped Video Toaster would do for desktop video production what the Macintosh did for desktop publishing and would ignite a revolution forever changing television and video production.
For more details about Amiwest 2022 please visit the official website
Amiga 37 Germany
However before AmiWest 2022, the biggest Amiga show of the year promises to be in Germany where Markus Tillmann and his team of volunteers are staging Amiga 37 Germany which will take place on October 15th-16th in Kunstwerk, Mönchengladbach.
Although I will miss the Rheinisches Landestheater in Neuss and especially the after party Ski Hall celebrations, the new venue is much larger offering more space for exhibitors and visitors. If the previous Amiga Germany events are anything to go by this will be the largest Amiga show in modern times.
I am pleased to confirm that, on behalf of A-EON Technology, I am sponsoring Amiga Germany once again and, unless prevented by international travel restrictions, plan to attend the show as part of a special combined AAA-Technology/Amiga Kit/A-EON Technology display stand.
I will be joined by Matthew Leaman and Ross from the UK, along with Laurent Zorawski and Franck Bednarski from France and A-EON's resident Linux expert Christian Zigotzy from Germany. If you are based in Europe and can only attend one Amiga event this year, Amiga Germany 37 is probably the show for you and better still it celebrates and promotes all the Amiga flavours.

A1222 Plus update
Talking about Amiga Future, although this is my first Blog update of 2022, I have supplied regular progress updates about the A1222+ in my Amiga Soapbox column in Amiga Future.
As I wrote in my last column, Matthew Leaman and I held a 4-way Skype meeting spanning Italy, France, New Zealand and the UK, with the ACube team of Enrico Vidale, Max Tretene and Philippe Ferrucci. It was agreed that ACube would obtain final quotes for the Early Adopter run and oversee the production and test of the A1222 Plus motherboards. The world of electronics supply is highly volatile at the moment with component shortage and prices sky-rocketing. Other components are either very scarce or not available. Against this backdrop of rising prices and continuing supply uncertainty we agreed with ACube to double the initial production order in an attempt to secure a lower price per unit. Enrico's latest news is the factory that made the prototype A1222+ boards is tied up until next year and another company he approached quoted double the original price. Enrico is waiting for quotes from two other manufacturers but warned lead times are long. I will provide more information as soon as it becomes available.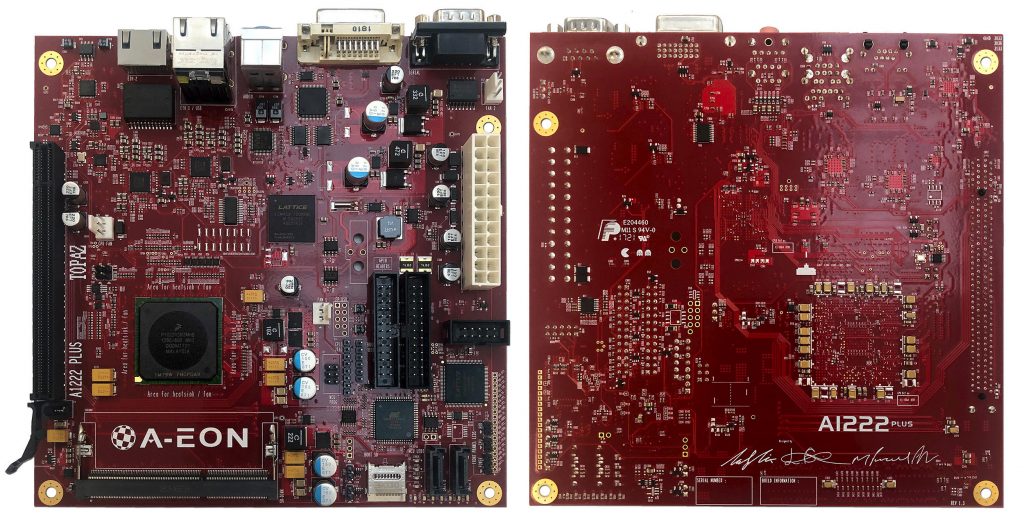 ExecSG team update
Steven Solie, who heads the active ExecSG team, provided me with the latest progress report as we push AmigaOS towards the holy grail of multicore computing. Steven wrote,
"The ExecSG team has been primarily focused on making multicore AmigaOS 4 a reality on the X5000 platform. A lot of effort has been expended on optimizing multicore and making it as application agnostic as possible. Once multicore AmigaOS has been vetted on the X5000 we plan to move on to the A1222 and X1000 platforms.
Meanwhile, the A1222 and X5000 DMA engines have been finalized. We did some testing with DMA with the generic CopyMem() with mixed results. What is certain is that any application moving large amounts of data around will benefit from using the DMA engines included in the P50x0 and P1022 CPUs. Considerable effort has been put into adding performancemonitor.resource support for the X1000, X5000 and A1222 as well. That effort enables tools like Hieronymus and gprof which are used to speed up applications. Finally, there have been many bug fixes and API enhancement as well."
Thanks for the update Steven. If all goes well Steven plans to demonstrate Multicore running on the X5000 at Amiwest 2022.
A view from the (Nova) Bridge
At Amiwest last October, which seems like a lifetime ago now, I revealed details of Nova Bridge, a new software layer for OS4 developed by Hans de Ruiter for A-EON Technology. Nova Bridge allows Warp3D Nova compatible RadeonHD and Radeon RX graphics cards to run older Warp3D/MiniGL games and apps almost out of the box, without the users having to worry about complicated setups or configurations. While Hans has continued adding new features and bug fixes, Roman 'kas1e' Kargin has been putting Nova Bridge through its paces, using the latest WIP beta updates from A-EON. He's posted several videos demonstrating Nova Bridge, Warp3D Nova (and ReWarp & ReWarp PPC) running a selection of games and applications natively under OS4 on his X5000/20. He recorded the videos in 1920×1080 full HD at 60 fps and scaled 640×480 displays to 1920×1080.
Back in December 2021, he wrote, "Now after a few more bug fixes and tests, I want to share how it is all in real life already. I recorded video as much care as possible: 1920×1080 full HD 60FPS and even things that run in 640×480 scaled to 1920×1080 to look almost as they were looked originally."
He split his video into 3 parts to show native AmigaOS 4 apps that use MiniGL, Warp3D and also WarpOS which uses Warp3D and/or MiniGL, which is made possible by the work of Daniel "DVDboon/Hedeon" on ReWarp and ReWarp3DPPC projects.
I'll leave it to Roman to sum up, "The most interesting things probably will be WarpOS apps: there I run WipeOUT2097, Heretic2, demos from Encore, MadWizzards, etc. They all work in hardware rendering mode, of course, have no needs for _ANY_ patches from anywhere, so can say that at the moment NovaBridge is the most compatible Warp3D from all the possible realizations on any old/new Amiga and Amiga flavors, because even stuff which works before on Voodoos but not on Radeon or in another way around, now just works as expected."
In February this year he posted a video of several major commercial AmigaOS game titles that were published towards the end of the Amiga-classic era (~1998 to early 2000) running natively of AmigaOS 4. He chose games which required an RTG graphics card to demonstrate the performance of 68k and WarpOS games such as as Napalm, Earth2140, Wipeout2097, Exodus, Software Tycon, PayBack, Foundation Gold, Nightlong, Heretic 2, The Feeble Files, MYST and CrossFire II.
All of his tests were performed on his X5000/20 equipped with a Radeon RX560 graphic card running the latest beta graphic drivers from AEON and beta components of OS4 from Hyperion.
And to complete Roman's gaming compilation in April he posted a video of an AmigaOS 4 native build of ScummVM running a series of games. These included, Alpha Polaris, Art Of Murder 1: FBI Confidential, Grim Fandango, Escape From Monkey Island (Monkey 4), Myst 3 : Exile and The Longest Journey
Once again the video capture was from his X5000/20 powered by A-EON's Radeon RX driver and A-EON's latest beta versions of ogles2 for OS4 (developed by Daniel Müßener) and Warp3D Nova libraries. According to Roman, "no GL4ES is involved, everything goes directly through ogles2.library, and the whole thing is based on the shaders." The ScummVM version he used was from the master branch dated 16-04-2022 which he credits to "lephilousophe" for the OS4 version.
Cooking with gas Microwave?
If you are a reader of Amiga Future magazine you will know that in my Amiga Soapbox article in issue 155 I revealed that, thanks to a tip from Marvin Droogsma, the multi-talented MC of Amiga 30 in Amsterdam, I managed to acquire one of the Pegasos VideoMicrowaves that Genesi used an as an excellent marketing stunt to promote the Pegasos computer.
I purchased the unit from Anand Sewrajsing along with an empty prototype case for the Pegasos Psylent. According to Anand, "So I met someone who used to work with Genesi. He offered me one of the few Video Microwaves with the board removed, but all cables, DVD-player and LCD still in it. He told me this was the Video Microwave that travelled around the World for expo's. Also, he offered me a prototype next-gen Genesi case that was never taken into production. It's an empty case, looks like a set-top-box, or a stand-alone DVD player, and was going to be the best Genesi machine. The Genesi butterfly is embossed on the top of the case."
After issue 155 was published, I was contacted by Ron van Herk, the former owner of Computer City in the Netherlands from 1998-2006 who revealed that he was the person who supplied Anand with the two items. He acquired them when he worked as VP of Sales/Distribution for Genesi in 2002-2004.
According to Ron,"I think they had 2 or 3 microwaves converted at the time. This particular one was the one that got dragged around the globe to shows and exhibitions.
It always travelled by FedEx and has probably made more airmiles than the average regular flyer. It travelled all over the globe to visit Amiga events and showed its insides to anyone interested – with no shame but with great pride! Equipped with a Pegasos 2 mainboard, a DVD drive, HDD and an LCD display inside the microwave's door, it drew quite an audience wherever it went. The concept was built around the idea of offering the successor to NewTek's VideoToaster, in the shape of the "VideoMicrowave". Genesi management stated that it had serious intentions to market it in this shape. Were they serious? We'll never know, but at least the stainless steel relics live to tell the tale…"
It certainly does Ron. The small dings and dents on the tough metal case of the Pegasos VideoMicrowave are proof of its previous itinerant existence. Thanks for providing a little more background history to this unique piece of next-generation hardware.
Moving house
I have another couple of excuses for not updating my blog this year, but you will have to read the current issue of Amiga Format to find one of them out. 😉 To top it all, I've just moved house and am faced with a new building for my Commodore and Amiga collection that bears a passing resemblance to a scene in the movie, Raiders of the Lost Ark. I have to be honest. Every time I open the door I quickly close it again. 😉 Maybe I will wait for summertime in NZ.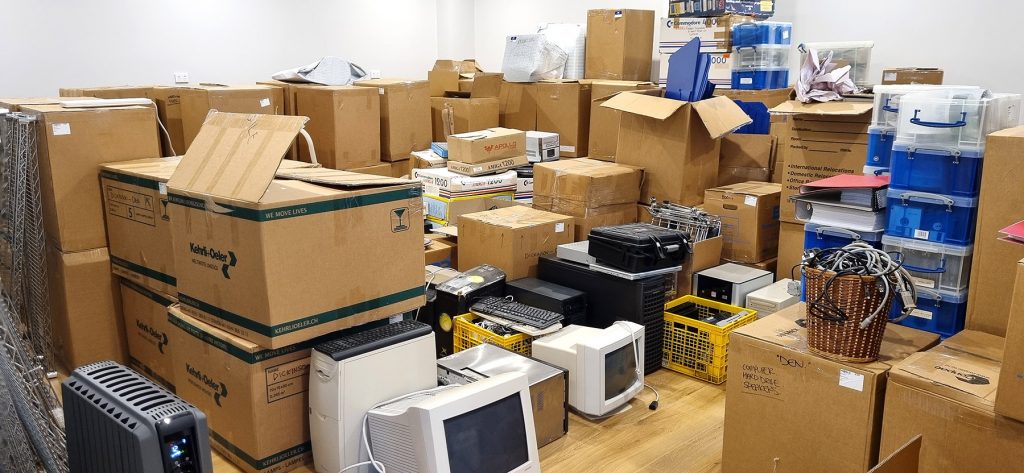 And finally
You know you have a serious problem when your wife spots an item in a shop window and takes a photograph of it for you! What's even worse she spotted it before me and said, "Oh look, it's one of those boingy thingies!" Come to think of it, I'm sure I saw a similar rocket in Steven Soilie's computer den when I visited him in Calgary a few years ago. I guess it takes one to know one. 😉
On that note, until next time………………………