It seems like only yesterday I arrived back in New Zealand after a very enjoyable trip to California to attend the 21st AmiWest show in Sacramento.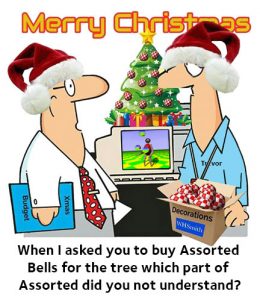 But with the summer in full swing down under and Christmas almost upon us I can't believe 2018 has flashed by so quickly. My trip to AmiWest always brings up a special phrase or saying that seems to resonate with that particular show. This year was no different and it was Amiwest guest speaker and developer extraordinaire, Daniel Müssener, who provided the words of inspiration this year when asked to comment on a particularly sensitive subject, he replied, "I really can't say anything bad about that", with the subtle implication that he could not say anything good either. 😉 I think he was commenting on the taste of an American beer, or could it have been the Scottish Malt whisky I brought with me to Amiwest? 😉 Anyway, we immediately picked up on the phrase, and used it at every opportunity during the show to great effect.
Smash and grab – déjà vu?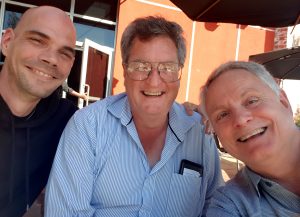 Unfortunately for Daniel, all of his clothes and laptop were stolen from our hire car in almost a repeat performance of the incident a couple of years ago when Paul Sadlik drove me, Matthew Leaman and AmigaOS 4 developer, Tony Wyatt to AmiWest. We parked our rental car at a busy diner in Pinole as we stopped for a coffee break on our way to Sacramento. Within minutes of entering the diner, with the car in full view about 40m away from our window seat, thieves smashed the back window and made off with Paul's briefcase and my airline carry-on bag. Paul lost his Apple laptop and car keys and a number of other items while I lost my passport, emergency cash, prescription glasses and two ALICE laptops plus my backup HDD and usb drive, all of which contained copies of my AmiWest presentation. Fun times indeed!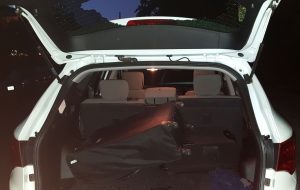 Fast forward two years and Paul was once again driving Matthew and I to Sacramento, this time with Daniel Müssener, who was giving the traditional keynote speech at the Saturday night banquet. Paul picked Daniel and I up at SFO airport and we retired to a local bar while we waited for Matthew Leaman to fly in from the UK. Over a few drinks we solved all of the Amiga world's problems and Paul and I relayed our previous tale of smash & grab woe to Daniel. While we were waiting we received a call from Bill Borsari who invited us to have dinner with him and his son before we drove on to Sacramento. It sounded like a good plan so, after we collected Matthew at SFO, we drove to a nice restaurant in a quiet neighbourhood where we met up with Bill and his son.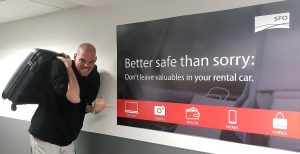 Bill warned us that car thieves were becoming more sophisticated and some were using RFID devices to detect laptops in the back of cars. I needed no second warning. Having been bitten previously, this time I left nothing to chance and took both my briefcase and suitcase into the busy restaurant with me. I must admit it did look a little strange wheeling my large red suitcase into the restaurant. Paul took his briefcase and, as usual, Matthew made sure he had his passport with him. Daniel had two bags, one which contained an old laptop which he needed for his presentation, and the other all his clothes and toiletries for his AmiWest visit. The neighbourhood looked safe with residential apartment buildings and lots of parked cars so Daniel decided not to take his bags into the restaurant.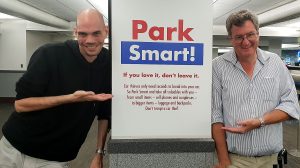 We had a very nice meal in the busy restaurant but when we returned to our car we discovered the back window was smashed and both of Daniel's bags were gone. Deja vu or what? We reported the theft to the police, more for the rental car insurance purposes than in hope of recovering Daniel's stolen property, and made our way back to SFO airport to exchange the car. The rental car attendant who processed us said that there was an epidemic of car break-ins in the San Francisco area, with rental cars being particularly targeted. He said he had personally processed seven cars during that day for the same reason. As we walked through the car rental terminal we started noticing multiple warnings about "parking smart". We picked up a replacement rental car and Paul drove us to Sacramento without incident.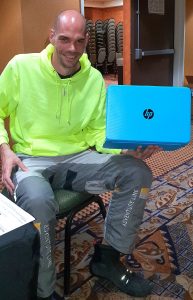 The next day Daniel bought some brightly coloured new clothes and a 'matching' laptop on which to recreate his Amiwest presentation and banquet speech. I really can't say anything bad about his choice of colours 😉 but his banquet speech was truly inspirational. Anyway, if you are planning to hire a rental car in the San Francisco area do not leave anything of value in your car. You have been warned! However, don't let that deter you from visiting the AmiWest show. It's a great celebration of all things Amigan and even thought Daniel lost all of his belongings he really enjoyed his first taste of the AmiWest experience. When I asked him for a comment, naturally his first reply was, "I really can't say anything bad about Amiwest" 😉 More seriously, he followed that up with, "The show was fantastic, the people were fantastic. I had lots of fun and really loved this very positive and familiar atmosphere. And I think I made some great new friends! Thanks a fortune to those who made it possible to get me there and to those who took extra care of me, especially Paul Sadlik, Bill Borsari and Trevor. Hope to see you all asap again!" He really can't say anything better than that. 🙂
Gearing up for Tabor
Last month, Adam Barnes, the former CTO of Ultra Varisys and several of his colleagues, attended AmigaKit's offices in Cardiff to help Matthew and his team prepare for production and support of the Tabor and Cyrus+ motherboards. In preparation for the work visit, Ultra Varisys shipped six pallets of stock containing a mixture of Cyrus+ motherboards, both tested and untested, along with prototypes and safety stock for both Cyrus+ and Tabor.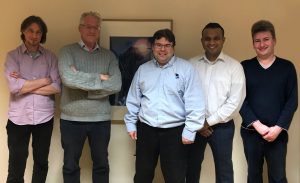 Also included were a selection of lab and test equipment and a small stock of broken motherboards for test purposes. Prior to the visit, the AmigaKit team of Matthew, Christopher and Joshua set up a dedicated laboratory to house all of the new test equipment. To compliment the equipment supplied by Ultra Varisys, they added bench power supplies along with several dedicated computers for diagnostic testing and flashing of FPGAs and firmware. The technology transfer meeting lasted almost five days and was wholly dedicated to A-EON Technology's AmigaOne hardware, including production issues and other technical matters. These included:
The motherboard bring up process for Tabor and Cyrus including firmware, software and hardware diagnostic techniques
Setup of test rigs on benches
Advanced fault finding procedures for Tabor and Cyrus
Overview of the internal documentation prepared by Ultra Varisys for each product line
Advice and support on production matters including recommended suppliers, sourcing BOM, CEM manufacturing, schematics and production data review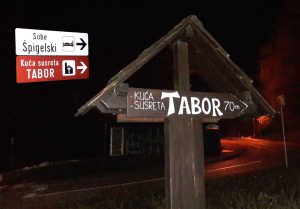 To facilitate the technology transfer, AmigaKit suspended its normal daytime business operations to concentrate on the Tabor/Cyrus work. To make up for the lost time, the AmigaKit team worked overtime from 6pm – 11pm every evening to service and support its regular Amiga customer base. I would like to thank Matthew and his team for all their support and hard work and look forward to exciting times in the New Year.
Talking about Tabor, active AmigaOne A1222 beta tester, Domagoj Ožanic, sent me a couple of photos of road signs to Tabor, which is apparently a religious retreat about 25 Km east of Zagreb, the capital of Croatia. Could it be the church of the Amiga perhaps? Well Croatia does have a Boing Ball on its flag. 🙂

Developing the Amiga Network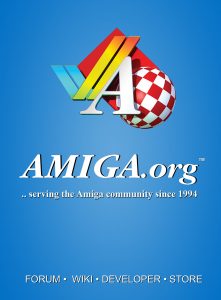 Cast your mind back to March 1997. It had been a particularly difficult time for Amiga enthusiasts following the very short lived and ultimately fruitless ESCOM era. However, when the news broke that Gateway were the new owners it looked as though the Amiga had been saved once again but this time by a company with proven management and massive resources. On March 26th, Wayne Hunt the owner and webmaster of Amiga.org, posted the news that Amiga.org, supported by the North Alabama Society of Amiga Users group, was rolling out its newest web venture, the Amiga Developer Network. Wayne wrote that the new site "is dedicated specifically to all aspects of development for the Amiga Computer, past, present and future. We're still in the process of adding things on an almost constant basis but you can expect to find discussion bases, technical specifications, developer contact information and about everything we can find to post to help you develop for the best (and some would argue ONLY) multimedia personal computer in the world. All questions and constructive feedback is welcomed as we're working hard to make this effort a central point for the Amiga developer community." The Amiga Developer Network was not linked to either Gateway or Amiga International but Wayne had a close working relationship with Gateway's Darreck Lisle, and in an interview he gave to Obligement webzine in August 2009, he commented "Darreck Lisle was THE MAN as far as the site was concerned, and I lived and breathed the idea of Amiga.org becoming the community arm of Gateway's Amiga. Alas that was a short-lived dream as we all know."

Gateway's brief flirtation with the Amiga is now a distant and fading memory but it's good to know that the soul of the Amiga Developer Network still lives on.
Amiga Developer Coding Weekend

With work on the Enhancer Software v1.5 update in full swing, in early December A-EON developers Andy Broad and Kevin Sherratt travelled to Cardiff for a long weekend of coding fun. Together with Matthew Leaman, they worked from Friday through Sunday on an intensive Enhancer Software coding jam.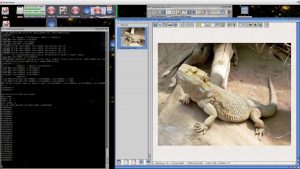 In a ground breaking first, Andy integrated the power of Warp3D Nova into the Multiviewer utility allowing it to bypass Picasso96 and use the raw power of the GPU and the graphics card's video ram to display images and draw 2D graphics. MultiEdit was also upgraded and has now a restore option to recover a document in the event of a power failure or system crash while editing a document. On power up or reboot it offers the user the option to recover the document. AMIStore, which was migrated to a new server by Matthew over the summer, also received several updates. Expect to see Enhancer Software v1.5 released in the very near future.
Linux Corner
While A-EON's AmigaOne hardware has been developed to run AmigaOS 4, it good to know that it also runs other PowerPC operating system like Linux & MorphOS. Being able to run PowerPC Linux distros on our hardware is very important as it allows A-EON to fully test all the onboard components and validate the overall stability and performance of the hardware. It also provides AmigaOS 4 users with access to mainstream productivity software, applications and even games that are not readily available under AmigaOS 4. We are very fortunate to have a large and growing team of Linux enthusiasts who help to ensure that our AmigaOne hardware supports the latest Linux kernels. In the past few months the team has released the stable 4.19 kernel for the AmigaOne X1000 & X5000 and are currently testing the 4.20 and 4.21 kernels. Linux specialist Casey Cullen released Fienix, a new customised Linux distribution based on Debian Sid, which he created for PowerPC machines. Thanks to the efforts of the enthusiastic Linux team, Fienix runs very nicely on the AmigaOne X1000 & X5000.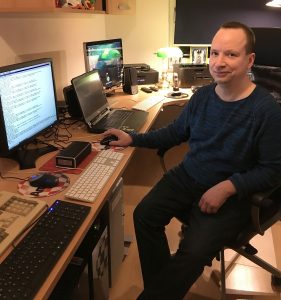 Christian Zigotsky is a very active and key member of A-EON's core Linux support team who has written installation instructions and provides Linux support for all of A-EON Technology's hardware including the AmigaOne X1000, X5000 and A1222/Tabor beta system. He has created numerous PowerPC Linux images for the X1000 & X5000. These include SUSE Tumbleweed 20170924 PPC64, Fedora 26 Server PPC64, Debian Buster/Sid PPC64 along with Debian Sid PowerPCSPE for the A1222. He also created the MATE PowerPC Remix 2017 distribution for the AmigaOne X1000 & X5000, a fork and unofficial successor of the dropped ubuntu MATE 17.04 PowerPC distribution. He ensures that A-EON's hardware supports all the latest Linux kernels and creates some Linux kernel patches as well as compiling and releasing Mesa for the X1000 & X5000. I asked Christian for a brief overview our recent Linux AmigaOne Linux highlights :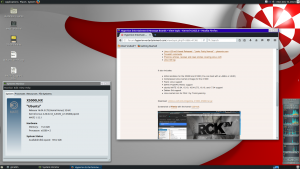 Sound problem was fixed in SuperTuxKart
A non-altivec version of VLC, the streaming media player, was released for the AmigaOne X5000
New Linux  installation instructions completed
A new Mesa version was released for the X5000 and X1000
An updated MATE PowerPC Remix distro was released
Updated Linux installation instructions
Improved AmigaOne TV support  for Analog TV cards, DVB-C streams, TV sticks, TV software, radio, kernel support for various tuners, YouTube with ViewTube, game consoles connected to TV devices, etc.
I'm totally amazed by the sheer energy, productivity and enthusiasm of our Linux team. They devote countless hours ensuring that our AmigaOne hardware supports all the latest Linux kernels and PowerPC distributions. How they keep up with testing the myriad of kernel release candidates I will never know but I'm just glad they do.
Getting shirty!

If you've had a chance to get your hands on a copy of David Pleasance's book, Commodore: The Inside Story, you will have read the chapter written by Colin Proudfoot, Commodore UK's Joint Managing Director, on their shirt sponsorship deal with Chelsea FC.

In 1987 Commodore UK was one of the first companies to sponsor a major English football team when they paid to have the Commodore logo on the Chelsea football shirt. The sponsorship deal continued until Commodore's bankruptcy in 1994, although in 1993 the Commodore logo was replaced with the Amiga logo. According to Proudfoot, "Football sponsorship was an effective way to get name recognition and brand awareness, the cost per eyeball minute, as the media folks say, was very worthwhile." As part of the sponsorship contract Commodore had to pay win bonuses, depending on how successful Chelsea were each season. Winning the Premiership would cost Chelsea another $1 million with lesser amounts for high place finishes. Likewise winning the FA Cup was another $1 million, while finishing runner-up was $500 K and there were similar bonuses for success in the League Cup. To mitigate against the "risk" of Chelsea's success, Commodore UK usually took out insurance with Lloyds of London. In the 1992/93 season Chelsea did not win any sponsorship bonus for the League or FA Cup but they did reach the League Cup quarter-final which resulted in a bonus payment from Commodore UK which was covered by a small claim against their Lloyds of London insurance policy.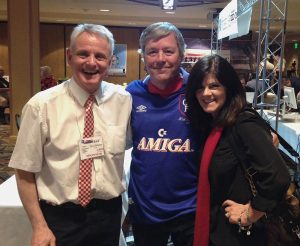 Before the 1993/94 season, Chelsea appointed former England international Glenn Hoddle as its player-manager. The optimism surrounding Hoddle's appointment coupled with the previous year's insurance claim resulted in greatly increased insurance premium quote for the 1993/94 season. Rather than pay out the additional money Commodore UK took a unique approach to the problem and if you want to find out more you will have to read David's book which is available from all good Amiga retailers.
As it happens, Chelsea did not win any sponsorship bonuses for Premiership or League Cup in 1994 but they did reach the English FA Cup final losing 4-0 to Manchester Utd in the process. Although Chelsea lost, Commodore UK saved a lot of money with the unconventional insurance policy it adopted. Ah those were the days! Fast forward to 2018, Chelsea have recently announced a record 5-year sponsorhip deal worth £50 million with South Korean car manufacturer, Hyundai to have the car maker's logo on the sleeve of the Chelsea shirt. Chelsea already make £40 million a year from its main shirt sponsors, Yokohama Rubber and a further £60 million from its kit-maker Nike. How times have changed!
Libre Office update

As I revealed in my AmiWest presentation, the Libre Office 5 beta version for AmigaOS 4 is finally nearing completion. That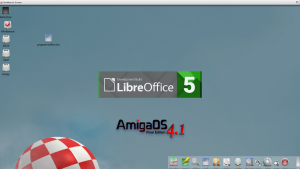 might sound like a strange comment since the beta version of Libre Office 4 was released to testers almost a year ago. Unfortunately, a specific mechanism in version 4 was not possible, or rather, could not be fully implemented in AmigaOS 4. The result was instability and crashes which the developers could not hope to get under control. Fortunately for us, Version 5 of Libre Office, thanks to its need to run under Android, has refined this mechanism in a much more portable way allowing it to be implemented under AmigaOS 4. Therefore the decision was made to ditch version 4 and move on to version 5. It was unavoidable to do this step, and even though it took a good while (remember that this is a side project that is only worked on for a week each month if and when the developers have spare time) we're now back at more or less the same state as when we left version 4 behind.
The UI works (minus some rendering errors that are being worked on), and you can actually type text and save and load documents. There are a couple of minor issues that still need to be addressed before the first Libre Office 5 beta is released and these issues should be addressed next month. It has been a long, challenging and expensive project but hopefully it will soon start to bear fruit.
Rapturous encounter?
Well no, not yet anyway. As I write this update, I'm sitting looking at a very expensive, heavy but at the moment useless lump of electronics and metal sitting in the corner of my office. Hey who said an AmigaOne! 😉 In August last year I ordered a Talos II Secure Workstation from Raptop Computing Systems.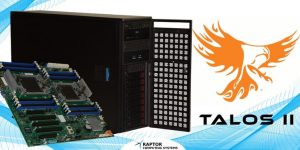 You may have heard of Raptor as the company that launched a failed crowd funding campaign in October 2016 to create inexpensive low cost IBM POWER8 Workstations. By low cost I mean by mainstream POWER8 computing standards. The complete 12-core Talos workstation with 256GB of DDR3 ECC RAM, installed in a customized, heavy-duty chassis with a choice of an AM FirePro or nVidia Tesla graphics card and built-in 4TB RAID1 supplied with either Debian or CentOS plus pre-installed would set you back US$17,600. As the crowd funding campaign progressed, Raptor introduced  several 'lower' cost options including a desktop edition for US$7,100 and a motherboard for US$3,700. Neither options were supplied with POWER8 CPUs which had to be ordered separately. Their goal was to raise US$3.7 million but when the campaign ended on January 14th, 2017 it had attracted 268 backers (including me) but was only 14% funded. Having failed with the crowd funding, Raptor completely revised its approach.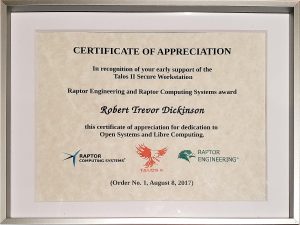 In August the company announced it was re-launching the Talos II programme but this time with IBM POWER9 processors which it claimed would be faster, more affordable and consume less power. As IBM had not yet released POWER9 to the general public, Raptor decided to instigate a pre-order with full payment up front to help them actually develop and build the systems they planned to sell while they waited for the release of the POWER9 CPUs towards the end of 2017. Anyway, as I needed a secure independent server for all my technical and business data, what better than a new POWER9 based system. I ordered a crazily high specification machine, what do you expect I am a big box Amigan at heart. In addition to all the standard Talos II features it included two 18-core PowerP CPUs, 96 Gb of DDR 4 Ram, an LSI 9300 8-port SATA interface card  together with a Radeon Pro WX7100 Workstation graphics card and a 500 Gb Sumsung Flash storage drive. I paid my money and waited for the system to be developed. With the price I paid including shipping and NZ import duties I could have purchased 8 or 9 complete AmigaOne X5000 systems which can actually run AmigaOS 4, MorphOS and Linux.
Almost one year after I placed my order the machine finally arrived. It was very well packed and had survived the long journey to New Zealand. The machine is a very heavy beast and extremely noisy but seems to be extremely well engineered. It is a server of course so I suppose the noise is to be expected, although I might have to set it up in the garage or the garden shed IF I can ever get Linux installed.  I ordered the system with PowerPC Linux pre-installed but it arrived with instructions to download a WIP Linux image from the web.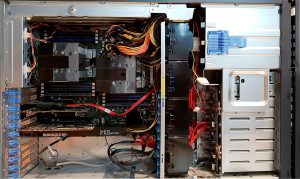 I suppose I shouldn't complain as the certificate supplied with the machine indicated my system was Order Number 1. It might explain why none of the installation procedures work. I have to admit trying to install the beta Linux makes my initial foray into the Linux world with the AmigaOne X1000, X5000  and A1222/Tabor seem like a walk in the park. OK I am the first to admit I am no Linux server expert, but I have installed various Linux distributions on multiple PowerPC and x86 machines in the past. I even supervised the Linux support for the AmigaOne X1000 and wrote the early installation guide before the first Ubuntu Live CD was produced by Pat Wall. The Talos II Secure Workstation is really aimed at a Linux administrator in a data centre and to be honest, I've been so busy with other pressing work over the past three months that I put the Workstation in the corner and forgot about it. However, it's now time to actually get it working as I need to create a backup SVN for some important source files. I've now written to Raptor Computing asking for assistance. So for the moment all I can say, is watch this space. 🙂
Scala WS500
If you followed my Classic Reflections series which was published in Amiga Future magazine, you will already know that one of my articles explored the history of Scala, Inc, a digital signage business founded by Jon Bohmer, a brilliant young Norwegian teenager. Scala was one of the most successful Amiga based businesses and is still recognised as the brand leader among companies providing digital signage software solutions. It is claimed that Scala almost single-handedly rescued the Amiga business market  in Europe and Commodore even agreed to let Scala re-box some Amiga models, starting with the A1200, to sell as a Scala branded machine. There were even rumours that Scala developers in Scandinavia were working to create a Workbench 4 operating system from scratch.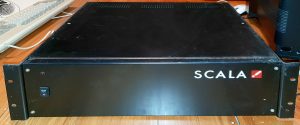 It some respects both rumours were true. Scala did re-brand A4000's and Amiga CD32s as Scala workstations and built A1200 tower systems to use as Scala InfoChannel Players but the company soon converted to PC based hardware following Commodores bankruptcy. After writing the article I became intrigued by Scala branded Amiga hardware and when Chris Collins, a friend and AmiWest stalwart, informed me that a Scala WS500 was listed for sale on eBay I just had to take a look.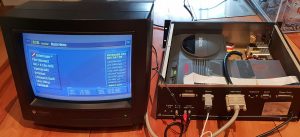 According to the Big Book of Amiga Hardware (BBOAH) the Scala WS500 was designed for use as a kiosk and is based on a European PAL based Amiga CD32 with an SX-1 attached which are all installed into a rack mounted Scala branded case along with a PSU. A dongle is also supplied which is needed to allow the Scala presentation software to run. The eBay seller would not ship outside the USA so Chris kindly offered to place the bid on my behalf and take delivery of the unit if he won the auction.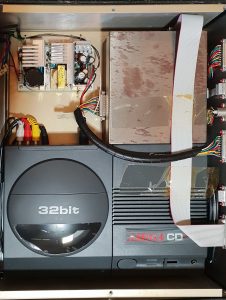 I advised Chris of my maximum bid and left him to it. We did not win the auction but the seller contacted Chris to say he had another couple of units and I could have one if I was willing to pay my previous maximum bid amount. Chris paid the seller on my behalf and brought the Scala WS500 system to AmiWest. I displayed it on the A-EON table along with Chris' AmigaOne A1222 beta system. Both units generated a lot of interest.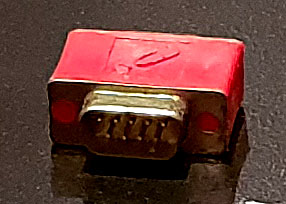 After AmiWest, with the help of Matthew Leaman, Chris arranged shipping of the Scala WS500 to me in New Zealand. As soon as it arrived I opened up the case and confirmed it included all the components listed on the BBOAH website. The CD32 itself appeared brand new and still had the protective plastic on the CD32 lid and case badge but did the unit actually work? I connected a monitor, mouse and keyboard and powered up the system. To my pleasant surprise it booted into the Info Channel player menu first time. So now I have a working Scala display system to add to my Classic Amiga collection. Whatever can I find next? 😉
Winter Showtime!

I'll be winging my way to the Ireland and the UK next month to attend the Amiga Ireland 2019 Meetup and the South West Amiga Group.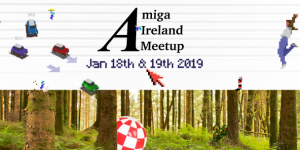 I will be joined at both events by Matthew Leaman, the Managing Director of A-EON Technology and owner of Amiga Kit.

If you are going to be in either area come along for a good honest chat about all things Amigan, but please remember no hidden recording devices. 😉 As the old saying goes, what happens at an Amiga shows stays at Amiga shows. All that remains to be said is:
Merry Christmas to all Amigans whatever your preference, generation or hue!