Commodore memories

I had the pleasure of meeting and talking to former Commodore employee Beth Richards who is a new member of the SACC user group, the organisers of AmiWest. Beth worked in Commodore's special chip design group from 1990 until the bankruptcy in 1994.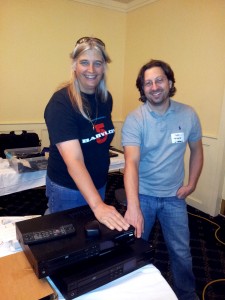 She worked on the Grace and Beauty chips for the cost reduced CDTV and the Akiko chip in the CD32. She brought a rare CR CDTV to the show which included a HDD and 3-1/2″ FDD. Apparently only 64 of these devices were every made. Amazingly there were two of them at the show. It was interesting to hear some of the stories and insights from the Commodore days. However, I could not quite understand her strange reaction every time Medhi Ali's name was mentioned? 😉
One man's meat……..
It was really good to see the AROS presence in the form of Jason McMullan and Sam Crowe at this years AmiWest. So with AmigaDave (unofficially) representing MorphOS and the usual strong AmigaOS 4 and Classic contingent the whole Amiga community was represented. Nice to see …. and there was no fighting, except during the Amiga trivia quiz contest which was won by the all conquering "Invisible Men" team which included, Matthew Leaman, Jason McMullan and yours truly! 🙂  We rocked!
Finding Nemo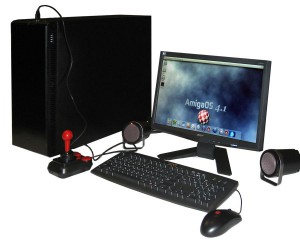 I received a lot of questions from attendees at AmiWest about the future availability of the AmigaONE X1000. The (third) production run is currently underway and AmigaKit receive boards from small batches from Varisys on a regular basis. Matthew confirmed that he will be contacting all customers who have lodged their interest in the X1000 as each new batch is received. Additional production runs will be scheduled should demand continue to exceed the supply. 🙂
Move over Xena….enter Xorro

I really enjoyed the presentation by Lyle Hazlewood our Xena warrior princess expert who presented an update of his Xena/Xorro development work. Lyle has updated his Xorro tools and created the first Xorro project which included a fast serial capture and SD Card.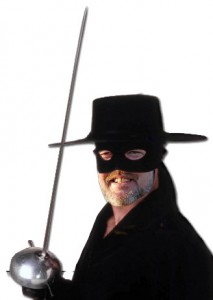 I must apologise to Lyle for my inappropriate Xena makeover. This was his first visit to AmiWest but Lyle was instantly recognised by most of the other attendees, usually with the phrase, "Hey, I know you, you are the guy in the dress!" Ooops sorry Lyle. To "redress" the balance I've attached a real picture of Lyle. Anyway, with AmigaKit due to stock Xorro boards next month now is the time for all A1-X1000 hackers to start planning their own Xorro projects. Lyle also revealed exciting news about the new "Bars & Pipes" port for AmigaOS 4.
Thanks Xorro um, I mean Lyle.
Suffering for art?
Anyone who has seen me at various Amiga shows knows that I usually wear a red & white "Boing Ball" tie and belt.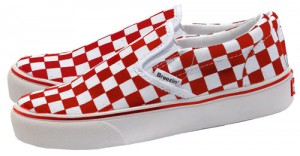 For this years AmiWest, following a worldwide web search, I managed to track down a pair of  "Boing Ball" checked shoes.
Unfortunately the only shoes I could find were 1/2 a size too small. At the end of the first day my feet were just a little sore!  For the fashion conscious the shoes are from the Vans' skate board range – Excellent!
The carnival is over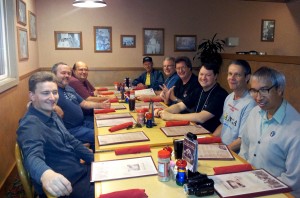 Pictures from the traditional after show dinner at a local Sacramento restaurant featuring some of the hardy organisers and attendees who just refused to go home.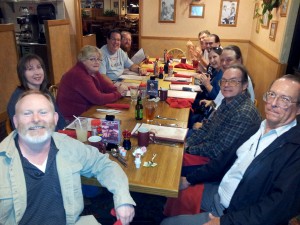 ……and finally, many thanks to A1-X1000 beta tester Val Marti for lending me his machine to display AmigaOS 4 and the Wheezy Live Flash drive installation.
Signing off from AmiWest 2012.