Visit to Aladdin's cave
After AmiWest 2012 I flew back to the UK with Matthew Leaman to visit AmigaKit's new facility in Cardiff.  Earlier this year AmigaKit vacated the two industrial units they have occupied since 2005 and moved into much larger premises in West Cardiff which has enough additional space to support their continuing expansion plans.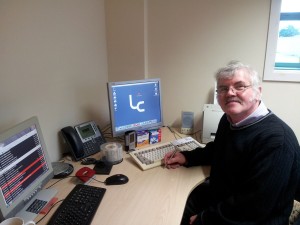 It was an interesting and surprising visit and what I saw certainly underlined AmigaKit's ongoing commitment to support all flavours of the Amiga community. However, despite their close association with Next-Generation Amiga systems (AmigaKit is the authorised distributor for A-EON products and a major re-seller of ACube hardware) the largest part of their business is Classic Amiga support.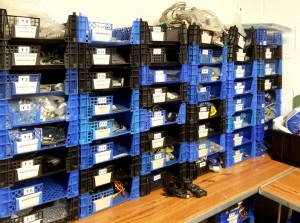 Their invoicing & stock control system is still run on an Amiga 1200 converted tower system and all invoices and shipping documents are printed from the A1200. Talk about practicing what you preach. They have a massive stock of new, Commodore manufactured, A1200 motherboards and an equally large supply of new A1200 cases and original Commodore packaging. They also have a warehouse full of Amiga goodies that makes my Amiga collection look very small. One of life's cruel lessons, someone always got a bigger boat Amiga collection!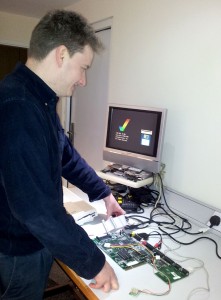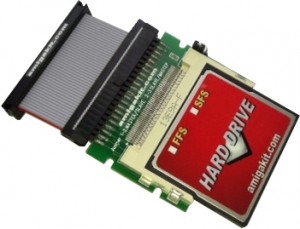 Over the past few years AmigaKit has also developed many new hardware and software products to help Classic Amiga users keep their aging machines running smoothly. These includes numerous widgets and gadgets to keep even the most enthusiastic Classic Amiga modder very happy.

At AmiWest, even former Commodore engineer, Beth Richards, purchased a number of items to patch up several of her Classic machines. Her purchases included a 4GB Compact Flash hard disk drive with AmigaKit's OS-Install pre-installed and a Lithium coin battery kit to replace the leaking (furry) battery in her Amiga 2000. Check out AmigaKit's website for a complete list of parts and accessories for your Classic Amiga.
Link: Classic Amiga goodies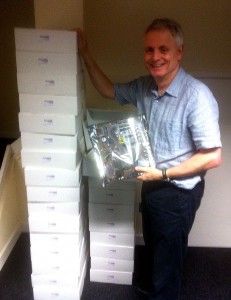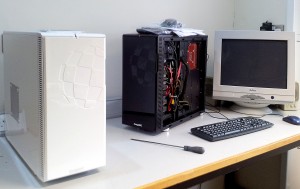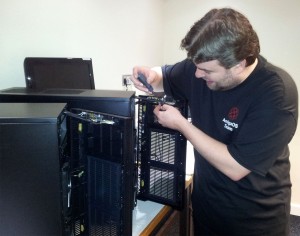 While I was visiting another batch of 25 Nemo boards was received from Varisys and Chris, AmigaKit's lead technician, was busy assembling and testing four more AmigaONE X1000 systems which were due to be shipped out that week.
Sorry for the poor quality of the Nemo Tower photo (blame Matthew ;-))
>>>Life in the Fast Lane>>>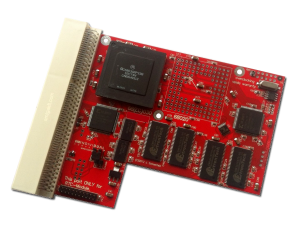 While I was at AmigaKit I also got to see the two new Classic 68k accelerators recently released by Jens Schönfeld of Individual Computers. The ACA1232, which is compatible with the A1200 and ACA 500, includes a 33 MHz 68030 CPU with MMU and is supplied with 128MB of Fast Ram. It includes a 1MB MapRom feature and is also PCMCIA compatible and achieves a respectable 7.89 MIPS with SysInfo. An optional realtime clock module is also available.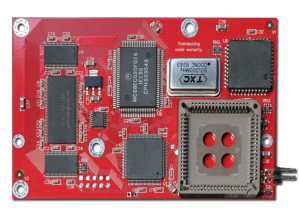 The ACA620EC is designed for the A600 and is supplied with a 16.67 MHz MC68EC020 CPU and supports up to 12.3MB of Fast Ram. It also includes a 1MB MapRom function. These accelerators are already proving to be very popular with Classic Amiga owners and AmigaKit has already had to increase its order to keep up with demand.
For more information please visit AmigaKit's and Individual Computers websites.
Lucky Number 8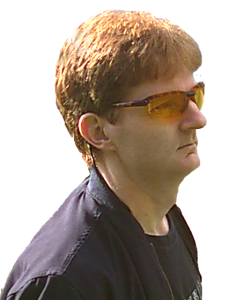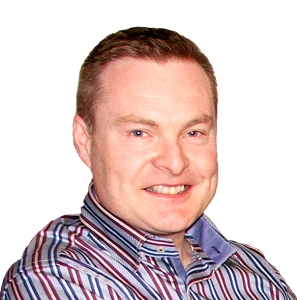 AmigaONE X1000 Linux gurus Darren Stevens and Pat Wall have gone and done it again. 😉 Thanks to Darren the A1-X1000 now supports the recent Linux 3.5.7 kernel and, better still, it now includes full support for 2D/3D hardware acceleration for RadeonHD 6xxx series graphics cards (as well as 4xxx, 5xxx cards). Now I can use my single slot Radeon HD 6850 with both AmigaOS 4 and Linux. Thanks Darren. 🙂
Pat has not been idle either. Not content with providing Live USB Flash drive images for Debian Wheezy and MintPPC 11, Pat has now produced a Live USB image based on Red Ribbon RC6, a PPC64 GNU/Linux distribution derived from Debian Wheezy with support for Cell BE which was recently released for the PlayStation 3. Red Ribbon is a lightweight distribution that contains only free and open source software.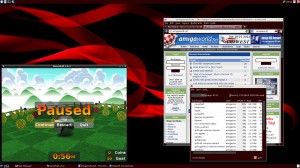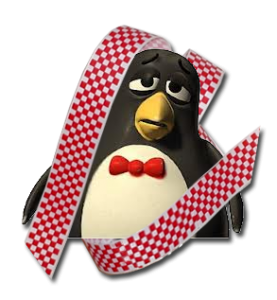 The Red Bibbon image can be installed on a USB Flash drive or USB HDD and allows "plug and play" Linux operation on the A1-X1000 without the need for installation to a HDD. It also has the added advantage that, unlike a Live CD, it can be updated and customised with the vast collection of productivity software, utilities and games which are freely available for download from the Linux repositories. With the addition of Red Ribbon, the A1-X1000 now supports 8 PowerPC Linux distributions.
"Bad Boy" Tommy
AmigaONE X1000 beta tester Thomas Blatt (aka TommSammy) recently attended the 3-day Bad Bramstedt 2012 event with his A1-X1000 system.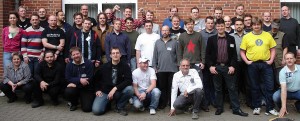 He demonstrated AmigaOS 4.1 Update 5 on his A1-X1000 running a compilation of games and productivity software, including Timberwolf and test versions of AbiWord 2.8, Gimp 2.6.11, and Andacious 3.2 courtesy of the developer Edgar Schwan.
Please click on the links for pictures and videos of the event.
Battle Royale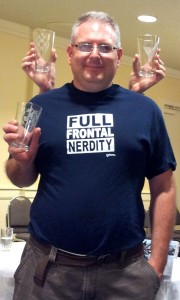 Never mind the "Red v Blue" wars, at AmiWest 2012 the battle was on to find who could wear the most "appropriate" T-Shirt to mark the event.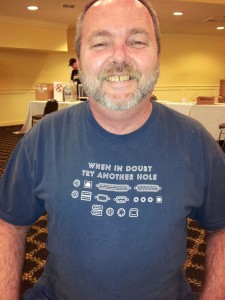 Steven Solie, AmigaOS 4 development team lead, looked like winning the day with his "Full Frontal Nerdity" offering but he was pipped at the last minute by Lyle Hazlewood of Xena/Xorro fame with his "When in doubt try another hole" T-shirt, which I'm reliably told was not a reference to the colour of the A1-X1000 audio sockets? 😉
All I can say is: "Lyle, knock, knock, knock"; "Lyle, knock, knock, knock"; "Lyle, knock, knock, knock", you are the man!