Minty Goodness

Anyone who has been following my blog knows that recently I've been very busy writing the GNU/Linux installation guide for the AmigaOne X1000. Thanks to the dedication of several "A1-X1000 "First Contact" owners and in particular Irishman Pat Wall, the guide has had several re-writes to cope with the additional PowerPC Linux distributions that the AmigaONE X1000 can now support. Thanks Pat! (I think ;-)). Version 2.3 of the GNU/Linux Installation guide will be available for registered AmigaONE X1000 owners to download in the next few days.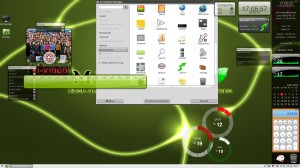 At the time of writing, up to six Linux distributions can be installed on the A1-X1000 along with AmigaOS. This includes MintPPC, Ubuntu and Debian Wheezy which all support 3D hardware accelerated graphic. It's only when you look at the massive catalogue of free productivity software, utilities and games that Linux has that you realise the challenge facing the Amiga community with its comparatively meagre resources. It's amazing what our community has and continues to achieve. Long may it contine.
Through the looking glass
Several months ago I purchased a used 17" 1.67Ghz Mac PowerBook off eBay in preparation for the release of MorphOS 3.0 which promised support for the Mac's discontinued and abandoned G4PowerPC laptops. Unfortunately when the package eventually arrived in New Zealand it was not in the best of shapes. It had been damaged in transit due to poor packaging and one corner was badly dented.  Luckily the screen was not damaged and the machine still booted so I had a chance to try out the MacOS X. It was also a good opportunity to make a comparative study of the 1.67GHz MacOS PowerBook in everyday use against the 1.8 GHz dual Core AmigaONE X1000 running a combination of AmigaOS 4 and various Linux distributions. I may be biased, OK I admit it I am, but I was pleasantly surprised by the results. Contrary to all the talk about how wonderful Mac PowerBooks are, frankly I was a little disappointed. I installed Firefox on the PowerBook and made a direct comparison against Firefox running under Linux. Flash is not supported by the MacOS or Linux but it was good to see the A1-X1000 outperform the PowerBook when running Youtube videos. OK, perhaps not the most objective of tests, but this is everyday use remember, not some arbitrary benchmark. 😉 I also found that the MacOS wanted total control over my use of the PowerBook. I suppose that is part of its mass market security and appeal but I found it very restrictive never-the-less.
Since the original PowerBook had arrived damaged, I managed to track down another used PowerBook on eBay, this time a 15", 1.67GHz model. The seller shipped the laptop from Germany in its original packaging and this time it arrived in good shape, despite a mix up by the courier, which resulted in the package being returned to the seller and then re-shipped to me. So when MorphOS 3.0 was released a few days ago I downloaded a copy and paid for a new MorphOS key file.  I even think I may have been one of the first purchasers? 😉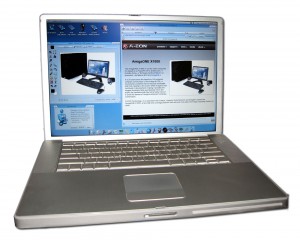 The replacement PowerBook had originally been setup in German, and as I don't speak German, coupled with my experience of MacOS X, I decided to perform a totally clean install of MOS3.0 and remove MacOS from the machine. MOS3.0 was very easy to install and within a short period of time I had the Ambient desktop up and running. On first impression the Desktop appearance was very similar to previous MOS 2.7 version I have installed on my Pegasos II.  I had some problem getting the menu bar to work until I realised that it was caused by the lack of a second button on the Mac mouse. Changing to an AmigaONE X1000 mouse solved the problem. Go "Boing Ball"! I also discovered that MOS3.0 does not yet support the PowerBook's internal wifi which was a little disappointing because I was hoping to use the PowerBook as my portable "Amiga". However, I'm sure the MOS developers are working on this issue?  (Please say you are.)
What else can I say? Compared to the Linux distributions that I had been working on, MOS3.0 is a very compact, lean and minimalist. Unlike Linux, there is not a lot of additional software or applications included as standard.  Of course there are plenty of applications you can download from Aminet or the MorphOS Software repositories but if you are a little lazy like me correction, I mean very busy, help is just around the corner in the shape Pack Ultimate 3.0 created by French MOS enthusiast, Papiosaur. (Why is it the French always say things backwards? Just joking – honest ;-)) Pack Ultimate is a pre-configured selection of programs and utilities which have been combined into one package for a convenient one-time installation on your MorphOS system. In some ways it's similar to "AmiKit" or "Icaros Desktop" in that it adds many of free Amiga programs and utilities you might want to install. Pack Ultimate 3.0 is being specially configured for MOS3.0 and according to Papiosaur should be available soon.  Although OS4 does come bundled with a number of optional extras programs and utilities I wish there was a similar distribution available for AmigaOS 4. Any volunteers?
What about MOS3.0 though? It certainly flies on the Mac PowerBook and make the MacOS X look a little sluggish by comparison. It just needs the wifi drivers to make the PowerBook really useful as an "Amiga" Laptop. One thing to mention though, PowerBooks are very heavy compared to modern Laptops and Netbooks!
Two's Company
A lot of work has been going on behind the scenes to bring AmigaOS 4's graphics drivers up to date and more news will be released in the near future. While the AmigaOS developers work towards the release of AmigaOS4.2, which includes support for SMP and Gallium 3D I thought it would be good to test my AmigaONE X1000 in a dual graphic card configuration.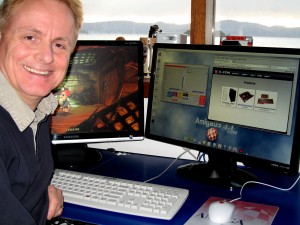 We recently commissioned the Frieden's to produce a firmware update for the AmigaONE X1000. This added a new early boot screen graphic and fixed a minor glitch which affected the start screen on older pci graphics card. It's always a scary process installing new firmware on any hardware. At least the A1-X1000 has a backup copy of the firmware stored onboard so you can always restore the older should you mesh up the installation! After I installed the new firmware I contacted AmigaOS 4 graphics guru Hans deRuiter, who is also a native of New Zealand, to discuss a dual graphics card installation in the AmigaONE X1000 under AmigaOS 4. "Easy as", said Hans (that's how we talk in New Zealand) and he provided a simple set of instructions to allow me to set up a dual graphic card system. My A1-X1000 has a RadeonHD 4650 card which is also supplied with the "First Contact" systems.  To this I added a Radeon 9250 PCI card and connected it to a second Monitor. Using Hans' instructions I was able to easily create the additional Monitor drivers needed to control the second monitor and within minutes I had a dual A1-X1000 graphics card system up and running.  I'm now able to  benefit from the RadeonHD's hardware accelerated 2D graphics on one monitor and Radeon 9250's 3D graphics on the second monitor. I could have done with this dual monitor set up when I was writing technical manuals on my A4000 using ProPage and ProDraw many years OK.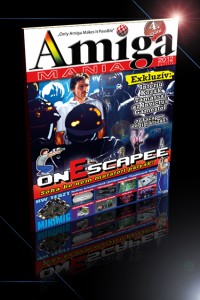 Hungarian Goulash – Amiga Flavour

I was recently asked for an interview by the good folks at "Amiga Mania", an excellent high quality Amiga Webzine produced by Hungarian Amiga enthusiasts. Please check out the next edition of "Amiga Mania" for my answers to their "hard hitting" questions.
For back issues please visit the following link:  Amiga Mania back issues
Now if only I could read Hungarian!