Xena Warrior Princess correction,  AmigaOS Developer!
This is the story of one developer's quest for redemption of past sins as a Windows programmer by using his formidable coding skills to help the AmigaOS community!
Lyle Hazlewood – Xena coder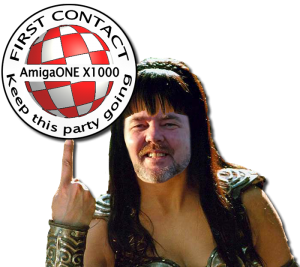 Ahem, back to reality………..
I've been playing around with "blinky" quite a lot recently. That does sound a little strange! It's a small utility created by Lyle Hazelwood to show the AmigaONE X1000 communicating with its onboard Xena chip (aka the XMOS XS1-L2). Thanks to the expertise and hard work of Lyle, the AmigaOS now has its first native programming tools and xena.resource. These allow the A1-X1000 to access and control the Xena chip from an AmigaOS command line without the need for an adapter board or JTAG cable. Thanks must also go to Segher Boessenkool whose code Lyle used to port the Xena tools to the AmigaOS. The Xena tools and resource have been included in a second interim update for registered "First Contact" customers and can be downloaded from the Hyperion Entertainment website.
Following the release of his Xena utilities, Lyle has volunteered to create the first Xorro application and we are sending him one of the prototype Xorro boards to allow him to demonstrate his "supernatural powers" for the greater good.  No pressure then Xena Lyle!
Visit Lyle's web page for more information: Link
Classic Reflections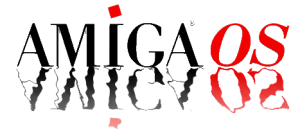 Following my previous blog I received several emails asking me for information about my "Classic Reflections" series of articles in the "Amiga Future" magazine. I've been writing articles for "Amiga Future" for about 5 years now. The subjects have been many and varied and have included articles about:- WinUAE, AmiKit, Amiga Forever, iMica & Icaros Desktop together with special features like "What is an Amiga?" and even the Android OS.
However, it all began in 2007 when I had the fortune to meet Robert Williams and Mick Sutton of the SEAL Amiga users group. Back then Seal was an active and thriving Amiga users group with members from the South Essex and North London area.  It also included Mac users (no accounting for taste ;-)) and produced "Total Amiga", a really excellent bi-monthly English language magazine which attempted cover all "Amiga" interests. Incidentally, I am indebted to Robert for installing Amithlon, the x86 AmigaOS port created by Bernie Meyer and Harald Frank, on a discarded Tiny PC I had lying around. Years earlier I had purchased Amithlon as part of the AmigaOS XL package from Haage & Partner but, apart from using it as a live CD, had never got around to installing it.
Anyway, I managed to convince Robert, who was the editor, technical guru and driving force behind "Total Amiga" to let me write a series of articles about the history of the Amiga computers released by Commodore and ESCOM.  The series, which was entitled "Amiga Retrospective", was originally conceived as a review of the Amiga hardware but over time morphed into something quite different. I chronicled the Amiga's rise, fall and subsequent rebirth through next generation systems and numerous community initiatives. I presented the highs and lows in the Amiga's evolution and tried to cover all "Amiga" flavours in an objective and balanced manner. The first two parts of the series appeared in "Total Amiga" but when the magazine clos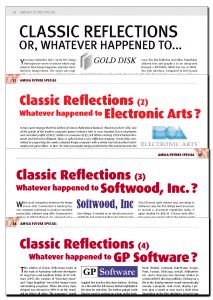 ed in early 2007 the series later transferred to "Amiga Future" and ran for another 3 years and 17 more episodes.
While writing "Amiga Retrospective" I would have liked to have included more information about some of the individuals and companies that played an intricate part in the Amiga's story. The Editors at Amiga Future granted me my wish and the result is "Classic Reflections", a new series of articles which asks the question "Whatever happened to?" I've already written five articles in the series which have covered the contributions made by "Gold Disk", "Electronic Arts", "Softwood" and "GP Software". The next article, which appears in issue 97, covers "ASDG", the company behind ADPro and MorphPlus who went on to transform the special effects industry. Please visit the "Amiga Future" website if you want any further details.
Link:  Amiga Future website