It's been a while since my last update but, with the Covid-19 pandemic still dominating world news and events, it looks like my plan to attend various international Amiga 35 events will definitely be cancelled this year. Most of the shows I was planning to attend have at best been delayed, or at worst cancelled altogether due to Covid-19. Flashback 2020 is the latest event to be cancelled which is now scheduled for June 2021. Not that it really makes much difference to me since New Zealand has imposed strict quarantine restrictions and if I could actually leave the country I would be held in a government approved quarantine facility for fourteen days on my return to make sure I did not have the virus. Such is life.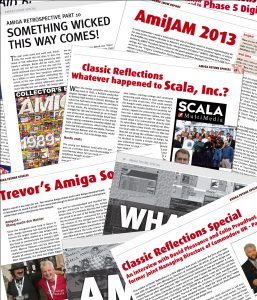 So what can an Amigan do when he can't travel the world visiting Amiga 35 events? I know, I can help write a book about the Amiga. 🙂 Of course that is nothing really new. Since 2007 I've been writing Amiga articles covering all aspects of the Amiga scene. First, a series of articles called Amiga Retrospective that began in Total Amiga magazine and transferred to Amiga Future magazine after Total Amiga ceased publication. The series, which ran for 20 issues, began as a review of the history and timeline of the Amiga computers produced by Commodore but morphed into the story of the Amiga in the post Commodore era. I've said on many occasions that the Amiga Retrospective series led me to developing next-generation Amiga hardware. 🙂 I also wrote a follow-up series of articles entitled, Classic Reflections, which told the story of key individuals and companies who contributed to the Amiga's success and what happened to them after the demise of Commodore. That series, also published in Amiga Future, ran for 32 issues and is currently being translated into French by David Brunet for his Obligement webzine. His latest translation of one of my articles, Whatever happended to Micronik? was recently posted on Obligement. I've also written many other articles for Amiga Future covering a wide range of Amiga topics, including show reports, special reviews, Devcons, and regular Soapbox Articles. I've even penned an article entitled, What is an Amiga? which reviewed all of the wild, wacky and wonderful post Commodore Amiga inspired developments.
You might be wondering why I'm even mentioning this?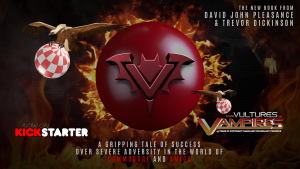 Well it's quite straightforward really. I'm excited to be collaborating with David Pleasance on his second book entitled, From Vultures to Vampires which looks at the Amiga's fate in the post-Commodore years. If you read David's first book, Commodore: the inside story, you will know I had the privilege of writing the book's foreword. So when David mentioned his idea of writing a book chronicling the Amiga's post-Commodore years, I just had to be involved. David is the first to admit that, after his and Colin Proudfoot's failed attempt to acquire the Amiga assets following Commodore's bankruptcy, he departed from the Amiga scene. If you read David's book you will know he embarked on a very colourful life that did not involve computers in any shape or form. However, he was drawn back into the Amiga fold after his attendance at the Amiga30 show in Amsterdam.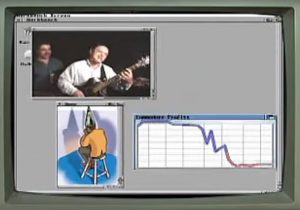 He was really suprised by the interest shown by Amiga enthusiasts desperate to hear more about his time at Commodore and the inner workings of a company that went from a billion dollar turnover to zero in just about three years, a less than impressive feat immortalised by Mike Rivers' song, The Chicken Lip Blues, in Dave Haynie's famous Deathbed Vigil video.
Anyway, back to the book. I've researched and collected so much detailed information over the past 35 years but, apart from a few in-depth interviews with people like Perry Kivolovitz of ASDG and even David and Colin about their time at Commodore UK, I don't have a lot of personal input from many of the key individuals involved. I like to believe that my two part interview with David & Colin for Amiga Future inspired David to write his first book. 🙂 In the new book, David and I want to include interviews with key players involved in the Amiga's post Commodore story. Of course I'm sure not everyone will want to contribute but I hope that most people will be willing to share their personal Amiga story, whether positive or negative. So if you would like to read about the twists and turns of the Amiga's post-Commodore journey, please support the Kickstarter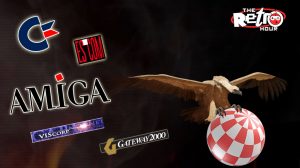 campaign: From Vultures to Vampires. The pledges are building nicely and at the time of writing the Kickstarter campaign is over 70% of the way to its target of £25K with 16 days still to run. To be honest, as a long time Amiga enthusiast I hope we make it as I just can't wait to get started. If you want to hear more about plans for the book, check out The Retro Hour podcast and listen to David and me being interviewed by Dan Wood.
A1222 Musings
While the Covid-19 has certainly slowed the A1222 Plus Early adopter release schedule, work has continued despite the delays caused by the pandemic.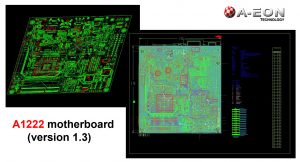 The project is being controlled by Matthew Leaman and he recently took delivery of the updated layout files from James Felix, the former Ultra Varisys engineer who was a key designer of the original Tabor board. The new motherboard, renamed A1222 v1.3, includes replacements for several obsolete minor components. Now Matthew can push ahead with producing a small batch of boards to ensure there are no surprises with the updated design after which he will give the green light to manufacture the Early Adopter batch. Over to you Matthew……….

and finally……
In a recent soapbox article for Amiga Future, I wrote about Sinan Gürkan, a long-time Amigan who has helped beta test AmigaOS 4 on the X5000 and A1222 as well as the earlier Sam460ex. His sixteen year old son, Atakan, designed a backplate for Sinan's A1222 beta system which he 3D printed using PLA+ on a Creality Ender-3 3D printer.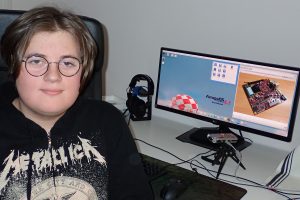 Sinan has agreed that I can distribute the STL file to any A1222 beta testers who want to print their own backplate. His only stipulation is the file is supplied for personal use only. So if you are an A1222 beta tester and want to 3D print your own backplate please contact me for details. Sinan sent me a photo of Atakan with his A1222 beta system but unfortunately there was not enough space in the Amiga Future article to include the image. So here is the photo of Atakan with Sinan's A1222 beta system running Odyssey under AmigaOS4.1 Update 1. Apart from the nice widescreen monitor, Sinan's system includes a RadeonHD 7800 series graphics card.
……until next time, stay safe