Pre-AmiWest Musings
I'm writing this blog as I prepare for my annual trip to the AmiWest Amiga show in Sacramento. The tickets are booked but, unlike the song, my bags are not yet packed. 😉 I have to say I really enjoy AmiWest.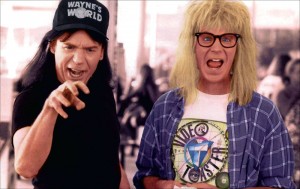 It is always a professionally run show and the company, as you would expect is really "excellent". Sorry I've just finished writing about the Video Toaster and its link to the cult 1990s movies Wayne's World & Wayne's World 2. You can read all about in the next edition of  "Amiga Future" magazine. So for now it's almost "Partytime!"
More on Radeon HD graphics cards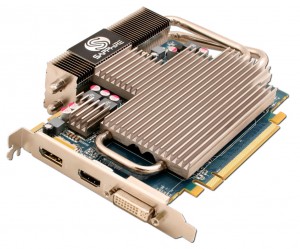 I've received a lot of emails and PMs following the announcement that AmigaOS 4.1 now supports series 7 Radeon HD cards. I've personally tested over a dozen Radeon HD cards in my A1-X1000 from the 4xxx, 5xxx, 6xxx and 7xxx series. You might be surprised to learn that my current favourites are the passively cooled Sapphire HD5670, the half-height, single slot Sapphire HD6570 and the passively cooled Sapphire HD7750.  These cards deliver a good balance between power, performance and noise level (i.e. no noise with the two passively cooled cards). In addition the HD5670 and HD6570 cards are both compatible with the most recent Linux kernel created by Darren Stevens, which is a nice little bonus. The two passively cooled cards take up more space but the HD5670, due to its form factor, does not use a second slot if its installed in the uppermost PCI-E slot in the A1-X1000. The HD7750 is definitely a 2-slot card. However there are several single slot cards available in the Radeon HD range including the PowerColor 6850.
For more information please visit: Radeon HD card comparison table
Do Androids dream of electric……….Amigas?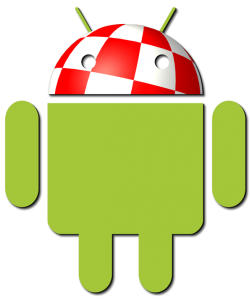 I noticed on the X1000 forums that "First Contact" owner @Kicko had some questions about AmigaOS connectivity with Samsung's latest Android smart-phones. I have become a great fan of Samsung's products. After years of using an old b&w Nokia mobile I finally joined the smart-phone brigade and purchased a Samsung Galaxy SII. Shortly afterwards, I was given a  free Samsung GalaxyS 5″ tablet when I bought some household appliances. It's very similar, although IMHO, slight better that an iPod Touch but has become rather redundant as the SII covers most of my "quick-look" mobile needs. It also works as a phone. 😉 I must admit I have never tried to connect either the SII or the GalaxyS to my A1-X1000 so I thought I would try it out. As reported by @Kicko the devices are recognised when connected to the A1-X1000 but do not appear on the Workbench and are not accessible from Shell window or DOpus. It seems Samsung dosen't want us poking around in Android's innards.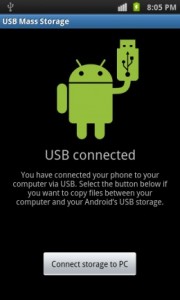 Fortunately, on the SII at least, Samsung have left a back door open and you can set up the phone in Settings/Applications/Development to allow USB debugging so that when you connect the phone to your computer with a USB cable a message pops up which allows you to complete the connection. Tapping on the Connect to PC button opens up disk icon on Workbench allowing you full access to your smart-phone file system and data.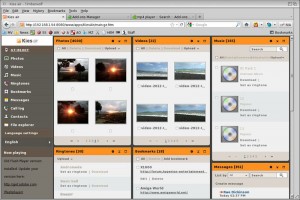 If you are feeling more adventurous you can also download Kies Air, a free app from the Samsung app store which lets you connect wirelessly via your web browser. I was able to connect to the SII and GalaxyS using both Timberwolf and OWB. Once you accept the connection a warning is displayed that not all of Kies Air's feature are available but it's a useful utility never-the-less. You can access all your smart-phone's data including messages, contacts, bookmarks and ringtones. I also have an Acer A500 Tablet (yes A500!) which similarly allows USB debugging to be enabled and Media (MTP) or Camera (PTP ) mode to be selected. If PTP (Picture Transfer Protocol) mode is selected a window automatically opens up on Workbench when the A500 is connected via a USB port. This displays all the music, images and videos which you have stored in the A500's DCIM folder. You can select your download path and transfer the files to you machine. I then tested all the Android devices on my MorphOS 3.1 PowerBook, which is turbo charged with Ultimate Pack 3.0. and was pleased to discover that the utilities worked equally as well. 🙂  The Media transfer protocol did not work with either MorphOS or AmigaOS 4. I got mixed result with my Icaros Desktop system.  The SII back door worked fine but neither PTP or MTP worked and Kies Air was also very sluggish with the AROS version of OWB.  I quickly checked with Ubuntu, MintPPC and Wheezy on my A1-X1000 and the SII back-door worked fine as did Kies Air.
If the shoe fits

Anyone who's been reading my blogs knows that I've spent a lot of time installing various GNU/Linux distros on my AmigaONE X1000. My on/off "love affair" with Linux has slowly evolved over the years.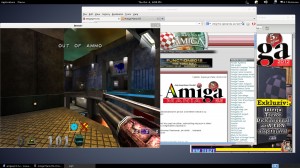 When Amiga magazines finally disappeared from the news shelves I starting looking elsewhere for my PC reading fix. Amongst the countless Windows centric mags I discovered a couple of Linux magazines that bucked the trend. I started reading the occasional Linux mag and eventually I found myself slowly sucked into the world of free and open source software. It did not happen overnight and it has taken me a long time to actually come to like Linux. 😉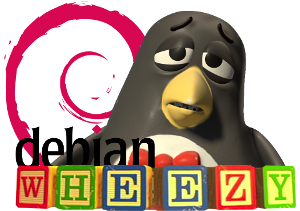 As I've tasked myself with maintaining the A1-X1000 Linux Installation guide I've had the "pleasure" of testing the many kernels and Linux distros created by Darren Stevens and Pat Wall. I'm very pleased to report that the latest version of Debian Wheezy runs very well on the A1-X1000. It is very nippy and is comparable to my Linux experience on x86 platforms. Wheezy provides access to a whole host of "serious" productivity software including such heavyweights as Libre Office, Iceweasel (Firefox), Gimp etc, and even a few 3D games like OpenArena and Extreme Tux Racer. 😉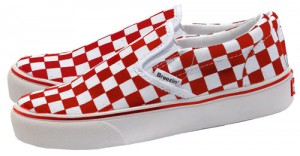 There is no doubt that recent updates have made Wheezy very stable and possibly one of the best Linux distros on the AmigaONE X1000. However, despite all these new features and improvements, once I start using Amiga OS again it's like coming back home and slipping on a pair of comfortable shoes. It's just feels right. 🙂
Amiga Maniac
For all Amiga enthusiasts who read Hungarian can I suggest you take a look at, Amiga Mania issue 5, the latest edition of Amiga Spirit's On-line webzine which has just been posted on their website.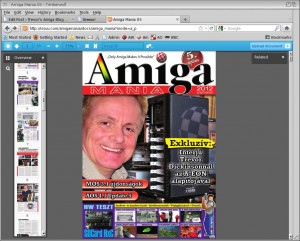 Even if you don't read Hungarian you can always look at the nice pictures, excluding the image on the front cover that is. 😉 Amiga Mania is a gorgeous looking, extremely professionally produced webzine which harks back to the Amiga's glory days. It is available as a downloadable PDF, but be warned the file size is 95MB and not for those with a slow internet connection. You can also read/view the magazine online with a Flash equipped web browser. However, I was pleasantly surprised I was able to "read" the flash version using Timberwolf on my A1-X1000, although not as an animated Flash image and since I can't read Hungarian I just looked at the pretty pictures.
Link: Downloadable PDF Version (~95MB) Online:  Flash version:
Stomp-it-out Update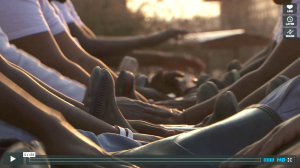 A quick update for all Amigans who donated towards Rayne Leafes' "Gumboot Dancing" documentary. She has posted a "Sneak Peak" teaser video following her initial filming exploits in Soweto. Later this month she travels back to South Africa to accompany the KYP Gumboot dancers on their trip to China. The "Stomp it Out" documentary is due to be released next year.
and finally………..
The cat is out of the bag – or should that be the mouse is on the mat?
After months of exhausting, research, design and planning I saw the first photos of our latest development effort. ….. Ta Daaa!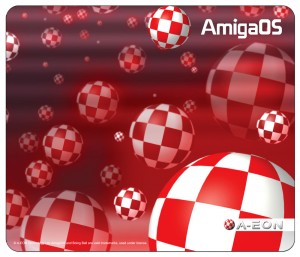 I'm finally pleased to able to reveal our newest product – the AmigaOS Mouse Mat which is now available to purchase from AmigaKit.com……. 😉 Seriously though, the A-EON AmigaOS mouse mat is an officially licensed product and all sales help contribute towards the continued development of the AmigaOS. It's also a very nice mouse mat. 🙂 Also look out for our A-EON branded 16 GB USB Flash drives.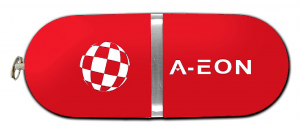 These will be available with GNU/Linux pre-loaded or blank for general use. I hope to have some with me at the AmiWest show.
(Ed. What was that about Bre………ssssh!)