With Amiwest 2019 well and truly done and dusted and I began writing this update as I was about to leave the USA to fly to Europe. Amiwest started a day earlier this year to accommodate a full extra day devoted to the Classic Amiga workshop on Friday before the main event. This meant Steven Solie's tradition AmigaOS DevCom began on Wednesday.
There were several contenders for this year's Amiwest quote of the show, a tradition which has grown over the past few years but actually started at AMIJAM 2013 in Calgary with the, "that's not what you said last night" quote. It spread to Amiwest the same year. I blame the Canadians Steve! 😉 (Steve replied, "Hey, weren't you at both shows?) Another good phrase was to be heard a couple of years back, when Eldee Stephens was told, "you are not on the list!"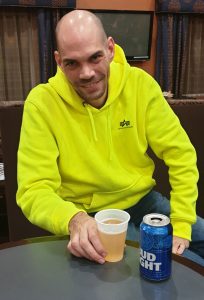 Last year's winner was Daniel Mussener with his, "I really can't say anything bad about that", when describing a light American beer which Mark Ritter had given him to taste. (he couldn't say anything good either! ;-)) This year there were several really good contenders. Robert 'Goody' Goodlett's, "Noted!", which apparently comes from the military and is usually said by a superior to a junior when the said junior has just make a stupid comment or suggestion. Close second was Mark Ritter's or was it Steven Soile's, "I was at that party!"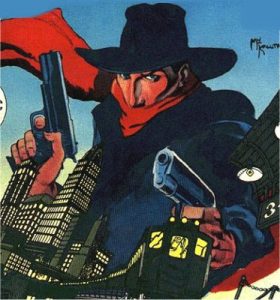 But the clear winner was Solie's, "Only the Shadow knows!" A quote from a cult US fictional detective series created by Walter B. Gibson which first appeared on radio in the 1930's and later in magazines, books, TV series and movies. The Shadow was a mysterious masked invincible crime fighter. The quote was used to good effect throughout the show, usually when someone asked a searching question. Hey who said, when is the A1222 going to be released?, "Only the shadow knows". 😉 A more complete Amiwest show report will appear in the next edition of Amiga Future magazine.
Show me the money! or [m68k] backend support in the new GCC compiler
If you are a regular reader of my blog you will know that John Paul Adrian Glaubitz, or Adrian as he prefers to be called, is maintainer of Debian SPE using the 'Atlantis & Pathfinder' code-named Tabor motherboards.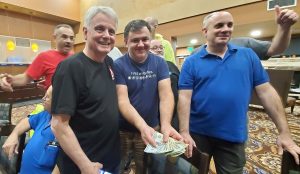 Adrian reached out to fellow Amigan Alex Perez, of Rabbit Hole Computing and Inertial Computing, to alert him that the GCC compiler was being upgraded and there was a real threat that future versions would not include [m68k] backend support. The m68K migration work required an experienced GCC developer and would need a minimum of US$5,000 to pay the coding work otherwise m68k support would be dropped. Adrian created a campaign on BOUNTYSOURCE to raise funds to pay for development work. Alex immediately donated to the cause and passed Adrian on to me to help promote the funding campaign. As there was still $1,378K needed to reach the minimum funding goal, on Friday evening, after the Amiwest Classic Amiga day, Alex and I made a plea to everyone who attended the traditional informal Friday night gathering.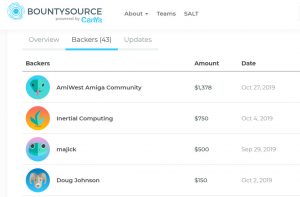 We did a quick whip round and I agreed to make up any shortfall with assistance from Matthew Leaman of AmigaKit (although he did not know this at the time ;-)). Everyone in the room made a donation and we collected almost $500 in cash. We gave the money to Alex and he made the full donation of $1,378 on behalf of the Amiwest Amiga Community which ensured Adrian's [m68k] campaign reached its minimum funding goal of $5,000.
When we informed Adrian he responded with, "Wow, I'm speechless. Thanks so much and thanks to everyone to the community! You rock!" If you want to add your support to the [m68k] backend porting work please visit the BOUNTYSOURCE link. [Err, cough, ummm, Matthew we now need to pay Alex the difference. 😉 ]
ALICE & ALEX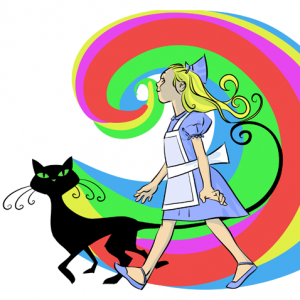 Talking about Alex and Rabbit Hole Computing, there were six ALICE laptops at the Amiwest show. This included one brought along by Ken Lester, one of the key ALICE developers and of course my own ALICE machine. In addition, Alex brought along 5 or six refurbished Lenovo ThinkCentre mini PCs which he has set up as mini ALICE desktop machines.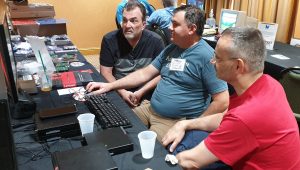 These tiny energy efficient PCs appear to work very well as a portable ALICE desktop and, just like the ALICE laptop, these mini PCs boot directly into AmigaOS or AmigaOS 4 Classic running on top of a Linux subsystem, complete with the cool "Rabbit hole" feature we developed for the original ALICE machine.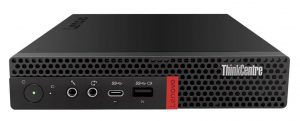 The PC case even has a little red stripe on the front. I suggested Alex name his ALICE mini PC A.L.E.X. which stands for "Amiga Linux EXperience" but for some reason he did not appear to like my suggestion! 🙂
Euro travels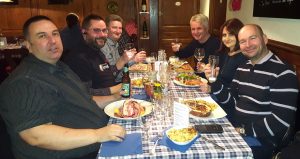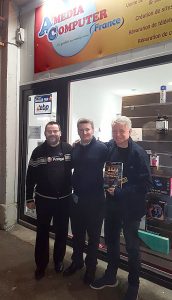 After Amiwest I flew on to London to meet up with Matthew Leaman to discuss plans for the upcoming release of the AmigaOne X5000 Plus edition and Version 2.0 of the Enhancer Software pack. We also firmed up plans for the A1222 Early Adopter limited edition and a news release will be posted after I return to New Zealand.
Matthew and I then travelled to France and Luxembourg to visit Laurent and Frank of Amedia Computer to discuss future cooperation for European sales and distribution of AmigaKit's and A-EON's hardware and software products. It proved to be a very productive trip. We visited Amedia's offices and afterwards Laurent treated us to some traditional food from the Alsace region of France.
AmsteRJam frolics
While Matthew returned to Wales, I made my way to Amsterdam to attend RJ Mical's AmsteRJam 2019 party being coordinated by  Marvin Droogsma and Marcel Franquin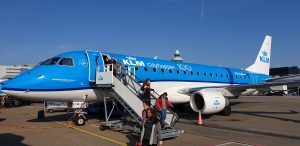 et. Unfortunately RJ, who was visiting Ireland with Gary Koffler, before travelling on to the Netherlands, had to return to the USA for personal reasons. However, although the main event was cancelled a few intrepid Amigans, who had booked flights and hotels, decided to still travel to Amsterdam for an impromptu Amiga meetup.
Gary was loaded down with special RJ emblazoned T-Shirts created by RJ's boyhood friend Michael Schifferdecker, for everyone who was going to attend the original event. With RJ returning to the States, Gary rescued them from being donated to an Irish homeless shelter. Some were being picked up by a local Irish user group and Gary dragged the rest through London and on to Amsterdam where he passed them off to Marcel. Our perfectly formed little group of Amigans included Omar Cornut from France, Chris Collins and Robert Bernardo from California, Amiga artist and software developer Leo Schwab, and of course Marvin, Marcel and me.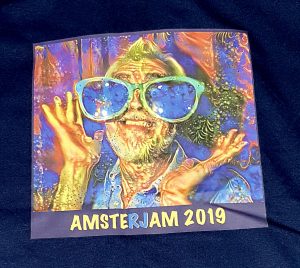 I arrived in Amsterdam to a major traffic jam which had gridlocked the city. The major ring road system had been shut down for schedule repair works and my 25 minute journey to my hotel took over 2 hours. With the city in gridlock Marvin, Chris and Robert came to my hotel and we shared a meal, drinks and good company. The next day Marvin had arranged a Jenever tasting session at the Wynand Fockink distillery. The history of Dutch "gin" was very entertaining and the Jenever was very good too but drinking alcohol on an empty stomach is not recommended. (Don't worry your secret is safe with us :-)) Marcel booked a special Rijsttafel banquet for our little group. I had eaten Rijsttafel when I first visited the Netherlands almost 40 years ago. I had memories of a delicious multi-dish nasi Padang Indonesian meal adapted by the Dutch from Padang region of West Sumatra. Marcel managed to find a restaurant that could accommodate us on a busy Saturday night. I was not disappointed. The meal was very delicious and plentiful. Marcel and Marvin made our way back to my hotel, dropping off Robert at his hotel on the way. We chatted for a couple of hours solving the Amiga world's problems 😉 Unfortunately, I had to leave early the next morning for my flight back to London and onward to New Zealand. I want to thank Marvin and Marcel and my fellow team of itinerant Amigans for all the good fun and company. RJ we missed you but drank to your health on numerous occasions. Right that's it for this update. I'm sitting in London Heathrow waiting for my flight back to New Zealand.
Until next time……………………..