Well AmiParty 21 in Poland lived up to all my expectations and then some. 🙂 The hospitality and warmth shown by Jeanot and the rest of the Chelm Amiga Legion team to David Pleasance, Amiga Bill and me was second to none. The strong Polish beer and aromatic home made vodka, known as Stalin's Tears, wasn't too bad either. I want to give a special shout-out to Leander who gave up his Sunday to give us a guided tour of historic Lublin. If you want to find out more, look out for my special AmiParty 21 visit report in the next issue of Amiga Future magazine.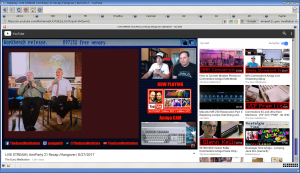 It you can't wait for the magazine you can always listen to AmigaBill and Anthony's Guru Meditation AmiParty21 podcast which covers the AmiParty and a lot of other cool Amiga news. AmigaBill has also posted a lot of photos from the event on the Guru Meditation Facebook pages as has Jack Swidnik and Stonego. If you only ever visit one Amiga show in Europe I can highly recommend the AmiParty event.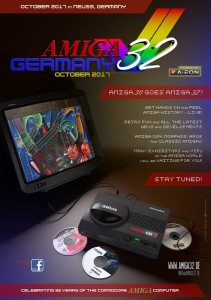 Following my brief trip to Poland I arrived back in New Zealand with the inevitable jet-lag coupled with a heavy cold. Not really a surprise I suppose. International air travel between winter and summer with the temperature of 36C the day I arrived in Poland compared to the "balmy" 8C now I'm back in the New Zealand winter. Such is the life of an Amiga traveller but to be perfectly honest I wouldn't have it any other way.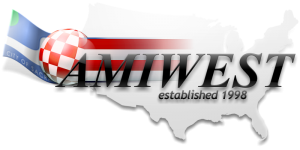 Fortunately, I have about 6 weeks to recover before I make my way to Sacramento, California to attend AmiWest 2017 and then over to Neuss in Germany for the Amiga32 show, both of which I'm pleased to report are once again being sponsored by A-EON Technology.
A.L.I.C.E. revisited
Talking about AmiWest 2017, it's been a long time coming but I'm pleased to be able to report that the A.L.I.C.E. laptop will be available for sale at the upcoming Amiwest show in Sacramento.

If you are a regular reader of my blog you will know that two prototype A.L.I.C.E. laptops were stolen from the trunk of our car while we stopped for coffee in Pinole on our way to the AmiWest show last year in Sacramento. I used the word trunk rather than boot since we were in the USA at the time. 😉
Although the theft did not stop the A.L.I.C.E. development effort, we delayed selling the Laptop until Ken Lester was satisfied that the A.L.I.C.E system recovery software was robust enough for general use. The delay in release of the commercial product has allowed Ken to incorporated a lot of new features and updates: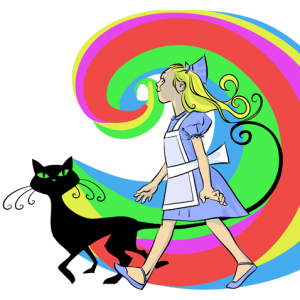 A.L.I.C.E. now supports screen resolution up to 1920×1080 for both AmiKit & AmigaOS 4.1 Classic (previously 1366×768)
AmigaOS 4.1 Classic OS4 now runs on top of WinUAE (rather than FS-UAE) and has native UAE graphics and access to the host system's hard drive (thanks updates to WinUAE by Toni Wilen)
The host system for AmiKit & OS4 is now Ubuntu 16.04 instead of the older Ubuntu 14.04 distribution
AmiKit & AmigaOS 4.1 F.E. are installed on Windows partition as well
AmigaOS 4.1 has the latest officially released F.E. updates
Now includes A-EON Technology's Enhancer Software Enhancer SE pack
In addition to the unique AmiKit Rabbit-Hole feature AmigaOS 4.1 Classic include easy access to the underlying Linux programs through the Looking-Glass (F11 button)
A.L.I.C.E. now has a reliable restore system via a bootable flash drive in the event that the system needs to be re-installed for any reason.
New A.L.I.C.E. wallpaper theme and icons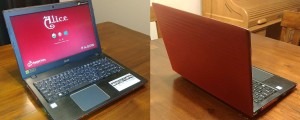 To whet your appetite, Ken has posted a quick video of A.L.I.C.E. in action. Ken will be attending AmiWest along with Alex Perez of Inertial Computing who is the main distributor for A.L.I.C.E. laptop. So if you are visiting the show and want to a see A.L.I.C.E. in the flesh, come along and say hello. Even better, buy one of the A.L.I.C.E. laptops that will be on sale. 😉
Sitting on the fence?
A few months back I was contacted by Charles Paek who wanted to borrow an AmigaOne X5000 to use in a futuristic film-set he was creating for an advert he had been contracted to produce. I checked Charles' professional background and discovered he is a successful award winning filmmaker and storyteller.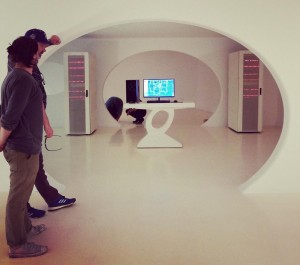 He started as a lead designer at CBS Broadcasting and later Digital Domain and over the past 12 years he worked as a Director, Visual Effects Supervisor, and Art Director on creative projects for Lexus, Target, Acura, Infiniti, Marvel, Paramount, Tanqueray and many others, winning a VES nomination and a Clio award in the process. All his projects sport a high end and photo-realistic design.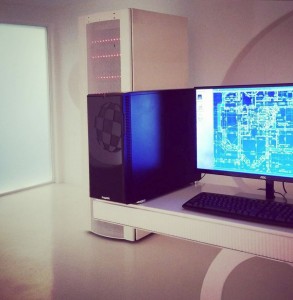 How could I turn Charles down? To supply the hardware I enlisted the help of Bill Borsari, the driving force behind the highly successful Amiga30th Anniversary celebrations at Computer History Museum in Mountain View, California and the man behind the live streaming at AmiWest every year. Bill, who is also an AmigaOS 4.x beta tester, shipped his AmigaOne X5000 beta system to Charles in Los Angeles for the filming project. A-EON Technology and Hyperion Entertainment gave their permission to use the AmigaOne X5000 and AmigaOS 4.1 in the advert and Charles did the rest. He used his now trademark high end photo-realistic design to create his video advert featuring the AmigaOne X5000.

I must admit it was really good to see the AmigaOne X5000 and AmigaOS 4.x featured on screen in a mainstream advert from a talented producer whose impressive portfolio also includes the likes of the Aston Martin 'Reverie'. After the shoot, Bill's machine was safely returned to him and I thought that would be the end of the matter. It was only then I discovered that Charles was actually a secret Amigan and had ordered his own pre-built AmigaOne X5000 system from AmigaKit with some additional parts form Amiga-On-The-Lake.
When he made the following post about his new AmigaOne X5000 on Amiga.org, "To my surprise, the computer is absolutely amazing. My main purpose of this was to avoid the habit of collecting a bunch of vintage machines (I own a 2000, 500 and 1200) and enjoy a bunch of games I played as a kid and not bother with setting up complicated emulators and conflicts when it comes to chipsets, kickstart versions etc. Basically, this machine has exceeded my expectations", I just had to contact him to find out more about his Amiga history. I will let Charles tell you himself:-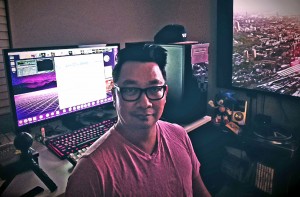 "As an 80's child, I grew up with Sega Genesis, Turbo Graphix 16 and the Super Nintendo. During that time, I also had an Apple IIc for school with a green monochrome monitor. I didn't discover the Amiga until the day my mother took me to the mall and I saw Flight Simulator running on the Amiga 500 at frames that blew my mind. On the Apple IIc it looked like was getting around 4fps on Flight Simulator, and what I saw that day was a full color rendering of San Francisco that to my young eyes looked completely and utterly smooth. That was the day the Amiga ruined my perception of what a powerful computer was supposed to be. A few months later, I actually convinced my parents to buy me the 500 and for those few short years when Commodore was still in business, I was in heaven. I lived for X-Copy and my friends and I would visit strangers homes and trade games for hours on end. Of course I would buy games too, but copying was our way of hacking and for middle school kids at that time, we felt like pirates. Then the PC revolution happened. Voodoo, Sound Blaster and the rest was history."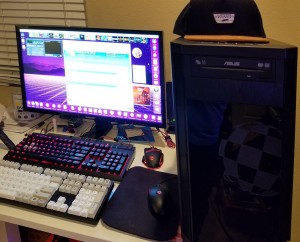 I will  leave the last word to Charles, "If anyone is on the fence about the x5000, I would wholeheartedly recommend a buy. A-EON, Hyperion, AOTL, AmigaKit have all pulled off the impossible in my eyes. Trevor, (I)  also wanted to say thanks for keeping the Amiga dream alive. I've had so much fun customizing my machine to bring back so many memories I had as a kid. There is no way aging hardware that is full of compatibility issues would bring me the same joy. Waiting for the A1222 and will purchase on day 1." Thanks Charles, I could not say that better myself and a special thanks to Bill Borsari for supplying his precious machine for the filming.
Approaching Warp speed
Those clever people at EntwicklerX, Thomas Claus and Frank Menzel, are making good use of the latest Warp3D Nova and associated OpengGLES2 updates supplied with the Enhancer Software package.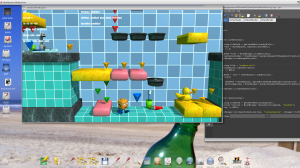 They have released a new teaser video which demos Spencer, a new Warp3D Nova based game they are working on. I asked Thomas and Frank for a brief progress update and they sent me the following message and images.
"We send you some work in progress of our first small 3D game focused on Warp3D Nova. It will be a small platformer game, inspired on Qwak (Team 17). We have not yet a release date because it is much work to get running well on Nova (workaround for missing features and shader adjustments, sometimes "poor" performance if shader effects are used). Also the levels have to be finished.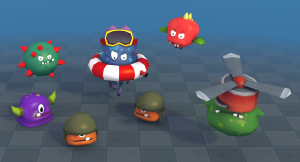 It will contain 5 Themes/Rooms in a house, currently we have 7 Enemies but maybe we will add some more. We hope to get it finished within the next 1-2 month, it should really be a smaller game to finish the 3D engine and get a first needed 3D game because it is a new field for us (I had to learn Blender from scratch ???? )." Thanks Thomas and Frank for the update. All your hard work certainly seems to be paying off!
Hans de Ruiter, the talented developer who is working on A-EON Technology's Warp3D Nova roadmap added: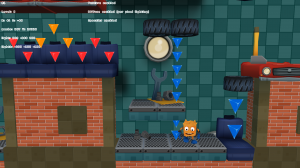 "I see per-pixel lighting, ambient occlusion, soft cast shadows; Entwickler-X are creating graphics effects that used to be impossible on AmigaOS. They also added depth-of-field to their X-Engine just a few months after I added the features they needed  to do that (render-to-texture & depth-textures). It's awesome to see Warp3D Nova's new capabilities being used, and I look forward to seeing more of this in future." Thanks Hans, so do we. Now get back to work on the next Warp3D Nova update! 😉
A new generation

Way back in 2002, the very first AmigaOne PowerPC next-generation system was released by Eyetech as the A1-SE model. Since AmigaOS 4 was not available at the time, it was sold as a developer board and supplied with the Debian Woody Linux PowerPC distribution. The A1-SE was actually based on a modified Teron CX reference board created by MAI Logic to showcase its ArticiaS Northbridge chip. Unfortunately the ArticiaS, which also powered the Pegasos I and AmigaOne A1-XE motherboard, turned out to be very buggy and would eventually lead to MAI's demise and Eyetech's departure from the Amiga scene.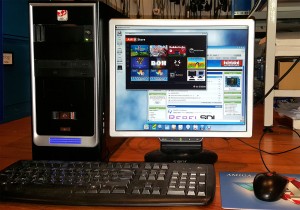 I have to admit I had not turned on my A1-SE system for a very long time until the other week when I received a plea for help from Olav Aanes Fagerlund, a Norwegian doctoral student attending the University of Tokyo in Japan. He had just acquired an A1-SE board and wanted to install the latest AmigaOS 4.1 F.E. update. He was experiencing memory problems and could not get the board to recognize a HDD attached to the on-board IDE port. Although he had no prior AmigaOS next-generation experience, I soon discovered he was a very capable individual. He started with an A500 as a youngster and, over the years, added a few other Amigas to his collection which now includes an A600 with Vampire v2, an A4000 equipped with a Mediator and PPC pci card and an A1200 with an Indivision, accelerator and Wifi card. He also has a Minimig and FPGA Arcade and MacMini G4 running MorphOS. I think he even has some Apple machines, but nobody's perfect! 😉
Anyway, I told Olav that the A1-SE was very picky about the RAM modules, that none of the on-board stuff really worked and to forget about on-board USB. I recommended he install an Audio, Ethernet and SATA PCI card and to help him I opened up my machine to see what actual PCI cards I had installed and provided him with the details. After that I powered up my A1-SE to show him the machine in action. I was really surprised when it booted straight into Workbench. Not too shabby for a machine that is almost 15 years old! I guess we Amigans are used to preserving our cultural heritage with some of our Classic machines now hitting 32 years and still going strong. 😉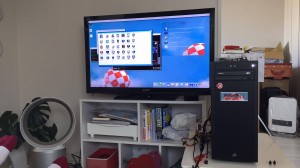 Although the A1-SE did feel very slow compared to my AmigaOne X5000, I forgot how much fun it was using this piece of Amiga next-generation history. I ran the Odyssey web-browser and downloaded some software using AMIStore. I sent Olav a copy of my Uboot firmware settings and left the rest to him. Within a couple of days he has sourced the relevant RAM and PCI cards and shortly after that he had AmigaOS 4.1 Final Edition installed and up and running on his 15 year old A1-SE. If you want to find out more information about Olav's A1-SE experience check out my Soapbox article in the next edition of Amiga Future magazine. I will compare and contrast Olav's A1-SE journey with that of Michael Hayler (Outrun1978) who is a dedicated Amiga next-generation user who writes an excellent and very informative AmigaOne X5000 blog.
You've got a Friend (UP) – the world's first open source virtual computer
One of the benefits of travelling to international Amiga events is you get to meet a lot of clever and interesting people who, if you are lucky, will buy you a drink or two! 😉 Joking aside, I've made some really good friends through my Amiga travels and one or two interesting investment opportunities as well. 😉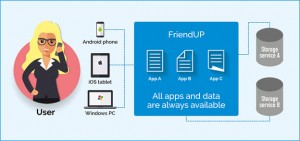 One of these new friends is Adam Spring of Remotely Interested Podcast fame. He has just written an intriguing and insightful article about FriendUP, the Friend Unifying Platform. I'm the first to admit that, although I am a very minor investor in the FriendUp business, I've never really been able to easily describe what FriendUp core business model is all about. Sure, I could appreciate terms like Liquid computing. I've read the hype about Web 4.0 and can appreciate the raw potential of the IoT. I have even come to terms with blockchain and cryptocurrency but just how does FriendUp interconnects with all these emerging technologies? After reading Adam's article I think I now have a better grasp of where FriendUp sits in the evolving world of the internet and a clearer understanding of its potential application verticals.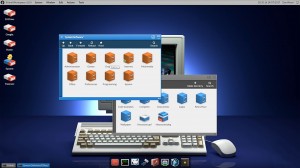 Many of the FriendUp team have Amiga roots which has inspired the rich counter culture that they are developing. The company has just released a new Welcome to Friend video, which is narrated by Dan Wood and presents an excellent overview of the FriendUp's features and capabilities. All I can say is, "ain't it good to know you've got a Friend(UP)". (with apologies to Carol King and James Taylor, and if you have to ask who they are you are just too young but I'm still pleased you are here! 😉
Lie, damn lies and statistics?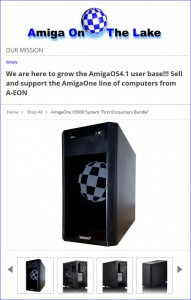 USA Amiga retailer, Amiga-on-The-Lake (AOTL) has a dual mission statement: "We are here to grow the AmigaOS4.1 user base!!! Sell and support the AmigaOne line of computers from A-EON". The company, which bills itself as, "The first 'AmigaNG only' Reseller on Planet Earth!", is certainly selling a lot of new AmigaOne X5000 systems. Aaron Smith, AOTL's CEO and co-founder, revealed an intriguing statistic to me about the customers who are buying the AmigaOne X5000 hardware he sells. According to Aaron, who personally chats to everyone who orders a system from his company, over 52% of the purchasers are new to AmigaOS 4 and have never used an Amiga next-generation computer before and even more surprising, of those people, over half have never used an Amiga computer of any kind in the past! At first he thought his findings were skewed by statistical aberrations associated the initial small number of sales but, as his volume of AmigaOne X5000 sales has steadily grown, the percentage of newly created Amigans has remained very consistent. Now that really is daring to be different. 🙂
AMIGAAA! (Finnish Amiga Users Meeting in Oulu 30th September)

There's me thinking that I had invented the AMIGAAA! battle-cry! Anyway if you are in Finland at the end of this month get yourself over to Oulu on September 30th to attend SAKU 2017, the  Finnish Amiga Users Group (officially Suomen Amiga-käyttäjät ry) annual Amiga Showcase.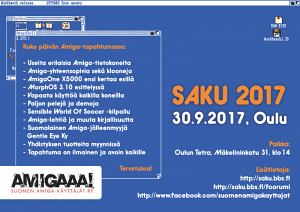 The event usually attracts around 150 visitors but Tapio Koivuniemi is expecting around 200 this year. He will be displaying his AmigaOne X5000 and games guru and OpenGL2 ES maestro, Daniel Müßener, has promised to supply the latest demo versions of Tower57 and Wings Remastered for the show. Tapio will also be demoing a range of AMIStore software he has purchased, including M.A.C.E. from EntwicklerX, AOrganiser by Andy Broad and A-EON Technology's latest Enhancer Software pack for AmigaOS PowerPC.
Have a break(out) have a Kitkat (lawsuit!)
If you think we have IP and trademark problems in our tiny Amiverse, spare a thought for confectionery giant, Nestle. It seems that a KitKat advert it ran on UK TV in 2016 has led to the company being sued by none other that Atari. Yes apparently Atari still exists, although a mere shadow of its former glory.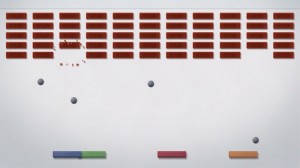 In 2004, with its sales of KitKat falling, Nestle conducted research which showed that although most people knew the famous 47 year-old marketing slogan, "Have a break, have a KitKat", it did not encourage them to buy the chocolatey snack. So, to counteract falling sales, the slogan was replaced by, "Make the most of your break" and since that time Nestle have released numerous ad campaigns based on that general theme. The advert that Atari objects to, entitled KitKat: Breakout, shows a group of people sitting on a sofa playing a Breakout style game during their work break. The traditional breakout bricks have been replaced by horizontal fingers of chocolate KitKat which the players have to try and break with their paddle and ball in typical Breakout fashion.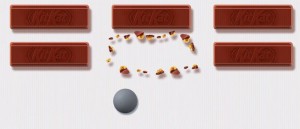 In its legal complaint which it filed in San Francisco, Atari claim that Nestle hoped to exploit "the special place [Breakout] holds among nostalgic Baby Boomers, Generation X, and even today's Millennial and post-Millennial 'gamers'" and that the "KitKat: Breakout advert is so plain and blatant that Nestle cannot claim to be an 'innocent' infringer". In reply a Nestle's spokesman said "We are aware of the lawsuit in the US and will defend ourselves strongly against these allegations. This is a UK TV advert that ran in 2016. The ad no longer runs and we have no current plans to re-run it." Of course as we Amigans know, there are literally dozens of similar Breakout games and clones.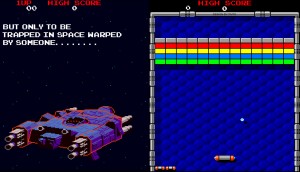 One of my personal favourites is Arkanoid by Taito which I remember playing for hours on my Amiga 2000. You can even play Arkanoid free of charge online along with many other breakout type games, if you are willing to put up with the adverts.
However, despite all these Breakout clones that are freely available, Atari still hopes to gain by suing the confectionery giant for its "blatant infringement", which only just goes to show that IP is only worth suing over if you think you can get a sizeable cash pay out. Perhaps the new Atari has taken a leaf out of the Jack Tramiel playbook, Business is war! I sometimes wonder why we Amigans are still at war with one another. Could it be for the sizable cash payout? Somehow I don't think so. 😉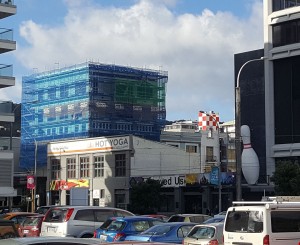 ….and finally
The Boing Ball Image of the week!
Seen while walking in Wellington CBD yesterday!
next stop Sacramento for AmiWest 2017 and Neuss for Amiga32.