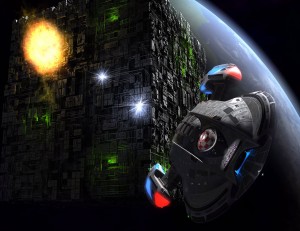 "You will be assimilated, resistance is futile" or so says the Borg Queen in Star Trek, one of my all-time favourite Sci-Fi TV shows. I've always thought that Star Trek had such interesting and well rounded characters like Deanna Troi, Seven of Nine, the Vulcan T'pol and of course the Borg Queen herself. Hmmm, do you notice a trend here? 😉
However, back on topic. It appears that, like the Borg, Google is fast taking over the mantle as the dominant force but, this time in mainstream computing.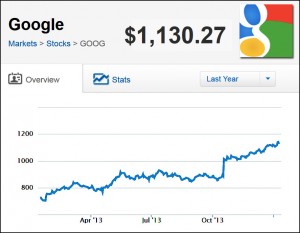 Research firm Gartner is predicting that over 1 billion (yes 1 billion) Android devices will ship in 2014, a 26% rise over 2013 figures. Who would have thought that search engine revenues would create such a massive company who is on the verge of domination in the computer retail world. Fortunately, we Amigans are not easily assimilated into the straight jacketed thinking of the computing masses. We may use Windows PCs, Mac's, Laptops, Net Books, Tablets and Smart-phones but we still get a lot of enjoyment from our Classic and Next-Generation machines. Whether your preference is for AmigaOS, MorphOS or AROS resistance is not futile and long may it continue. So when you hear someone complaining on a web forum that nothing is happening just remember that, behind the scenes, small but dedicated teams are working hard to "keep the dream alive".
Over the rainbow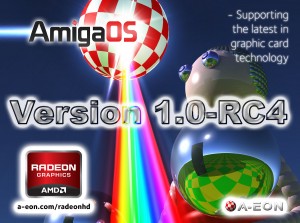 The release date for version 1.0 of the AmigaOS 4.x RadeonHD driver is fast approaching. Hans de Ruiter, our RadeonHD graphics guru, has just issued Version 1.0-RC4 (release candidate 4) to the AmigaONE X1000 beta testers who are busy putting the driver through its paces. The RadeonHD graphics driver provides full 2D graphics acceleration for Radeon HD graphics cards. It supports everything from the Radeon HD 2000 series (R600 chipsets) through to the Radeon HD 7000 series. It also supports the older Radeon X1300-X1950 graphics cards (R500 chipsets), although these are not recommended. Apart from the usual improvements the update fixed a couple of pesky problems which were effecting some graphics cards.
Version 1.0-RC4 incorporates the following changes:-
Resolved an issue which could cause a deadlock when the RadeonHD_RM.resource's memory management was used (locked up RHDRMTest2)
WaitIdle() now locks the command processor to ensure that it's idle and prevents a very rare infinite loop from occurring
Now lower Evergreen+ clocks down to initial values for initialisation after a soft-reset (helps with some tricky RadeonHD cards)
Fixed a bug in the code to get the graphics card's ROM
Disabled compositing for 16-bit target bitmaps/screens with Radeon HD7xxx series cards (did not work correctly due to a hardware limitation of these cards)
Registered users will be able to download the Version 1.0-RC4 from the A-EON Technology secure download area in the near future. Look out for the official news release on the A-EON Technology website.
What's in store?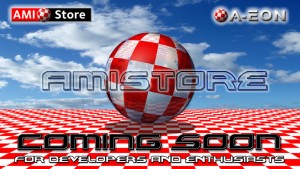 You may have read on A-EON Technology's Facebook page that the AMIstore project is nearing completion? I have received numerous enquiries from Amigans keen to find out more about the AMIstore concept. Simply put, AMIstore is designed as a platform for A-EON Technology, its partners and more importantly the Amiga developers to display and sell their digital products.  These may be games, utilities or productivity software. However, unlike other digital stores, the aim of AMIstore is to encourage talented developers to create quality native applications for our platform…and most of all benefit from their hard work. Contrary to many other Web-based stores, AMIstore is an application written to run under the AmigaOS on you Next-Generation Amiga.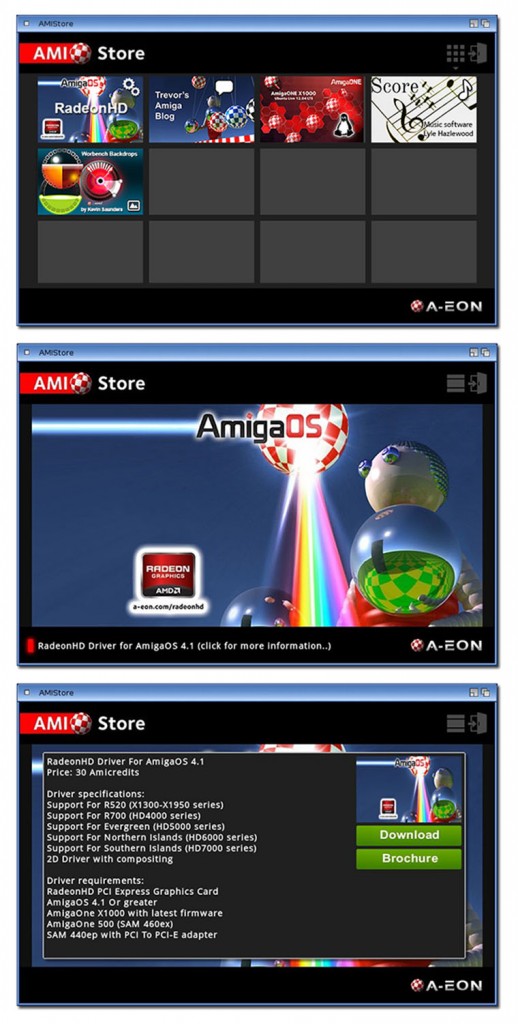 No longer will developers have to maintain a database of ever changing customer email addresses. Nor will they need to keep track of free upgrades or discounts for registered users to make sure that an update or new version reaches existing customers. As one developer commented, "I rarely have any time for development, let alone to deal with the distribution part of it. A good web-store service would be able to keep track of who bought what software and then allow those who purchased it to download free updates, or when a new major version is released, have a cheaper upgrade option if they purchased the older version. This could offload developers so they could spend all their time on actual development." For hosting the AMIstore service and handing all the sales administration order tracking and digital delivery A-EON will charge a small commission. However, profits will be re-invested in new hardware and software development with Amiga developers. AMIstore will also offer a selection of free digital downloads from top Amiga developers. The aim of AMIstore is to supplement the traditional software sources like Aminet, OS4Depot, etc by providing developers with the opportunity to benefit from their efforts. Key AMIstore features include:
Simple login with AMIsphere user-name and passwords
Automatic check for program updates and new products every time you log into AMIstore
New AmiCredit payment system – ideal as a gift from friends, family and loved ones
Downloadable statement of purchase history
Profits re-invested into new hardware and software development with Amiga developers
Help developers ease the headache of supporting and distributing their work
Automated payment and collection system
Very low commission, varying from 9% to 19% depending of the key nature of the software
Plans for an optional and separate developer donation button to be added alongside the payment system

AMIstore will be rolled out to beta testers in the near future. Meanwhile, if you are an Amiga software developer and would like a showcase to market your Classic or Next-Generation software to the Amiga community please send an email to: contact (at) a-eon.com with "AMIstore – Developer Enquiry" in the subject line. Please provide details of all of your Amiga software titles and utilities that you would like to sell on the AMIstore showcase.
Please note: There is no obligation and all enquiries will be kept strictly confidential.
Penguin Corner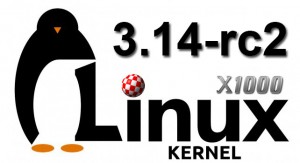 Our core Linux support group have been very busy since the official release of the Live Ubuntu Remix DVD for the AmigaONE X1000.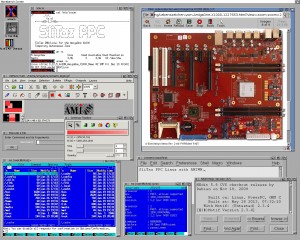 Christian Zigotzky's output has continued at a frenetic pace. Not content with adding SliTaz (now up to version 22) and Lubuntu 14 support for the AmigaONE x1000, he has also been liaising with former PA Semi developer, Olof Johansson, who maintains Linux support for the PA6T source code within the Linux kernel. The aim is to integrate the Nemo patches in the official Linux PowerPC kernel sources which will make future kernel support for the AmigaONE X1000 much easier.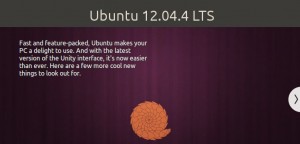 We have also enlisted the help of Adrian Cox, who created the original Nemo patches for the Debian Squeeze Linux port which was used by Ultra Varisys to test all of the on-board components. Adrian is also working on the Linux test port for the new Cyrus+ motherboard.
Over the past month Christian has released several kernel updates for the AmigaONE X1000 with the latest, version 3.14-RC2, now available for testing. Meanwhile Pat Wall and Darren Stevens have been far from idle. Darren is continuing to grapple with the intricacies of 3D support for the RadeonHD 7xxx series graphics cards and Pat is working on an update to the Live Ubuntu Remix DVD to incorporate the latest 12.04.4 LTS release.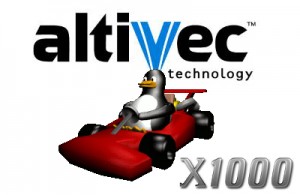 This update will include the latest stable kernel along with Christian's new version of SuperTuxKart for the AmigaONE X1000 plus a few other improvements based on user feedback. Existing Live Ubuntu Remix owners will be able to download the updated version from AMIstore when it becomes available. If you want to read a "First Contact" owners first impressions of the Live Ubuntu Remix DVD please visit Epsilon's AmigaONE X1000 Blog. Epsilon's blog is also an excellent resource and reference for all AmigaONE X1000 owners.
Linux Torvald, the father of Linux, "I started Linux as a desktop operating system. And it's the only area where Linux hasn't completely taken over. That just annoys the hell out of me."
What's in a name?

Everyone who joined the Cyrus+ beta test team had the option of having their name or nickname added to the Cyrus+ motherboard. Unsurprisingly most of the beta testers, including yours truly, opted to have their name added to the motherboard.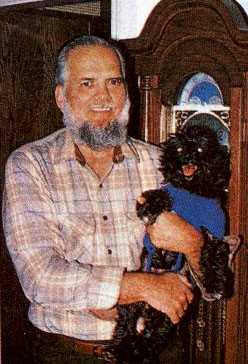 We decided to dedicate the new Cyrus+ motherboard to the memory of Jay Miner and his faithful cockapoo dog, Mitchie, by adding their names to the board.
However, when it came to the correct spelling of Mitchie's name there was a lot of debate. Was it "Mitchie" or "Mitchy" as stated in Wikipedia? After a a lot of research we decided to go for Mitchie since two of the original Amiga developers Joe Decuir and Dave Needle spell it Mitchie, as does Dave Haynie and the Amiga History Guide. Who are we to argue? In any case Jay's dog was female and Mitchie tends be the feminine version of the name. Anyway, we hope Jay and Mitchie will approve.
Classic Reflections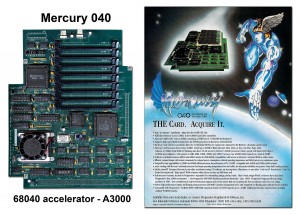 I've just finished my next Classic Reflections article for issue 108 of Amiga Future magazine.  For this edition I focused on a company who started life creating Commodore 64 games but evolved into a major developer of Amiga software and peripherals. At its peak it was one of the largest Commodore Amiga third party hardware and software manufacturers before suffering a literal burnout which hastened its eventual demise and early departure from the Amiga scene. That company was Progressive Peripherals & Software, Inc.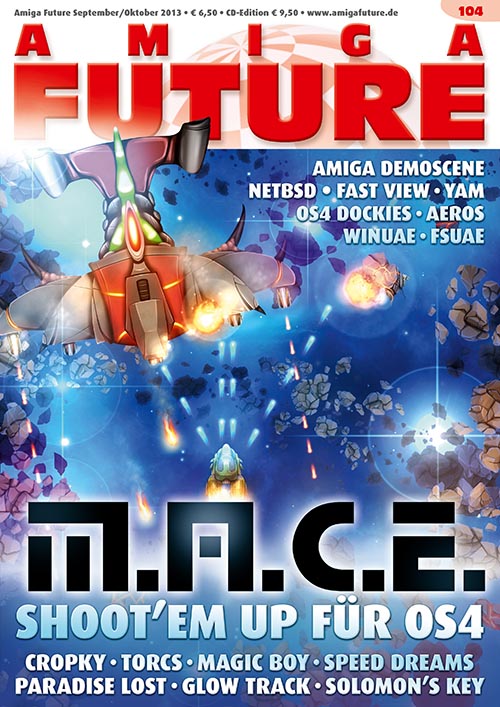 Amiga Future magazine, which is published 6 times a year, is available in both English and German language editions and you can order your copy from the Amiga Future website or your local Amiga retailer. Better still take out a subscription and don't miss another chapter of the "Whatever happened to?" Classic Reflections series.
NEWS UPDATE: apc-tcp.de, the publishers of Amga Future, have just announced a special one-time only offer for issue 104 at the low price of 1 Euro (plus shipping) while the stocks last. So if you have never read the magazine or are a lapsed subscriber this is your chance to pick up a copy at a super low price. What are you waiting for? 🙂
…and finally
I recently had to purchase an iPad mini for another non-Amiga related project. (Shame on me I know ;-)) I'm the first to admit I'm not a traditional Apple user. All of the other Apple devices I own, a Mac Mini, eMAC, PowerMac and PowerBook have MorphOS installed. That's not quite true. I also have a iMac running Mac OSX while I wait for MorphOS support! 😉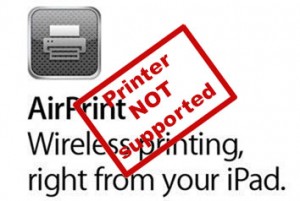 However, I was really surprised to discover that printer support for iOS is somewhat limited. OK don't get me wrong, the Apple Airprint system does support a lot of printers but, unfortunately for me, none of my three wifi enabled printers are supported. That includes a Brother multifunction ink-jet printer, a Brother B&W Laser printer and a Xerox ColorQube. I discovered the fact when I tried to print out an emailed document which needed a signature. I was astonished that none of my printers were found by AirPrint. Ironically, I searched the web and was able to find a commercial Windows application that allowed the iPad Mini to print to any printer connected to the Windows PC on my home network by using the PC's Windows printer driver. So next time you complain about printer support under AmigaOS, MorphOS or AROS, just remember that devices made in their millions by the world's largest capitalised public corporation may not support your printer either.